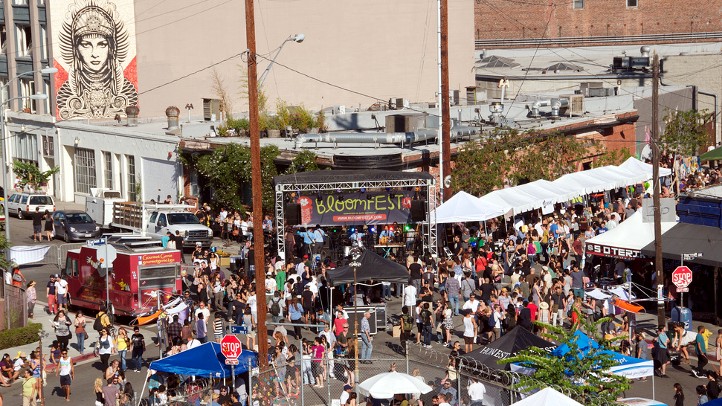 WEEKEND OF STREET FAIRS: Want to be outside? Eat an ice cream? Drink an IPA? Take in some sun? Do some shopping? Hear music? Get to BloomfestLA in the Downtown Arts District on Saturday, July 21, the Los Feliz Village Street Fair on Sunday, July 22, or Montana Avenue on either July 21 and 22 for some or all of those elements. The vibe and scene'll be different for each spot, of course, so take a gander at all the offerings before heading out.
dineLA SUMMER RESTAURANT WEEK: Deals? We like them. Prix fixe meals? Those, too, because they give a little taste of a lot. And the list of eateries participating in this mondo 12-day dining discount deal? It is extensive. If you want something a little more casual, make for the Rose Bowl, where LA Street Food Fest is on. It's all about the food trucks, and it is only happening on Saturday, July 21.
SILENTS UNDER THE STARS: Any film fan worth her popcorn salt knows that Paramount Ranch in Agoura Hills was one of the biggest and brightest of the early movie ranches. Which makes watch a trio of silent films at the ranch especially meaningful. "Mantrap" from 1925 opens the series on Sunday, July 22; two more flicks are to come on Aug. 5 and 19. Hollywood Heritage hosts and a ticket is a not-too-shabby six bucks.
SUMMER SODA TASTINGS: Plenty of people around the Golden State will be at wine tastings this weekend, swirling and sniffing. You? You could be at Highland Park's own Galco's, where pop'll be poured and rare Dr. Pepper will be auctioned and comedy and music will reign. You love Galco's, right? We all should, sweet beverage lovers or not. Sunday, July 22.
CATALINA WATER SKI RACE: You love Long Beach, the ocean, and Catalina Island; were you aware that there's an annual zoom from LBC to Avalon and back and it involves multitudes of water skiers being towed across the channel? Pretty epic, right? It's been around for 63 years to boot, too. The 62-mile round trip race gets fast on Saturday, July 21.
Follow NBCLA for the latest LA news, events and entertainment: iPhone/iPad App | Facebook; | Twitter; | Google+; | Instagram; | RSS; | Text Alerts | Email Alerts
Copyright FREEL - NBC Local Media