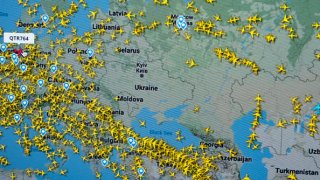 Ukranian airspace was restricted for civilian flights, a notice to airmen said.
At least one flight was forced to turn around after the warning was issued.
Russia launched an attack on Ukraine in the early morning hours local time.
Ukrainian officials closed the country's airspace to commercial flights Thursday, citing a "high risk" amid Russia's invasion.
Airlines including Qatar Airways, Wizz Air, Turkish Airlines and others had cancelled Kyiv flights scheduled for Thursday.
Russia launched an attack on its neighbor early Thursday morning local time.
Airlines including Qatar Airways, Wizz Air, Turkish Airlines and others had canceled Kyiv flights scheduled for Thursday.
The flight restriction notice came just before Russian President Vladimir Putin announced that his forces would launch a military operation in Ukraine. Soon after Putin's announcement, explosions were reported in Ukrainian cities such as Kyiv, the capital.
The European Union Air Safety Agency early Thursday, local time, avoid Ukrainian airspace, including 100 nautical miles of the borders with Belarus and Russia.
Several foreign airlines, including Lufthansa and KLM previously suspended Ukraine flights due to worries about a potential invasion of Ukraine by Russia.
LOT Polish Airlines Flight 755 headed for Kyiv returned to Warsaw around the time the order was issued.
Earlier Russia restricted flights along the country's eastern border with Ukraine. U.S. aviation authorities first prohibited U.S. aircraft from flying over eastern Ukraine since Malaysia Airlines Flight 17 was shot down in the region.
Last week, some Ukrainian airlines were forced to cancel flights or move jets out of the country on aircraft lessors' orders because insurance companies wouldn't cover the flights.
Some carriers changed their routes.
"Based upon our collective evaluation of the situation, we have decided to proactively transition to our alternate flight routing," United Parcel Service said in a message to its pilots on Monday. "While this alternate routing adds additional time to the flight, we feel this is a viable alternative to continue to provide safe and efficient operations. We will continue to monitor the situation and provide additional updates to you when we receive them."
Follow live updates of the Russian attack here.
Copyright CNBC