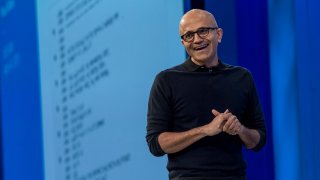 CEO Satya Nadella teased "one of the most significant updates of Windows of the past decade" in his kickoff speech at Microsoft's Build conference for software developers.
Microsoft also announced new Azure, Power Platform and Teams tools for developers.
Microsoft kicked off its annual Build conference for software developers on Tuesday by making a slew of cloud product announcements, and the company also indicated that its Windows operating system will be getting better for developers.
Keeping developers interested in its platforms is important for Microsoft. The company needs to ensure that programmers want to choose its Azure public cloud over rivals. If developers become less interested in building and updating apps for Windows, organizations might consider moving to alternatives, which could threaten a meaningful piece of Microsoft's business.
"Soon we will share one of the most significant updates of Windows of the past decade to unlock greater economic opportunity for developers and creators," Microsoft CEO Satya Nadella said during his keynote at the virtual conference. "I've been self-hosting it over the past several months, and I'm incredibly excited about the next generation of Windows."
"Our promise to you is this: We will create more opportunities for every Windows developer today and welcome every creator who is looking for the most innovative, new, open platform to build and distribute and monetize applications," he added.
In conjunction with the event, Microsoft released a 43-page "book of news" detailing its updates. Many are incremental, although the company did unveil a few notable new products. Here are the highlights:
You can find the full "book of news" here.
WATCH: Cloud software is here to stay post-pandemic, says Bessemer's Deeter
Copyright CNBC