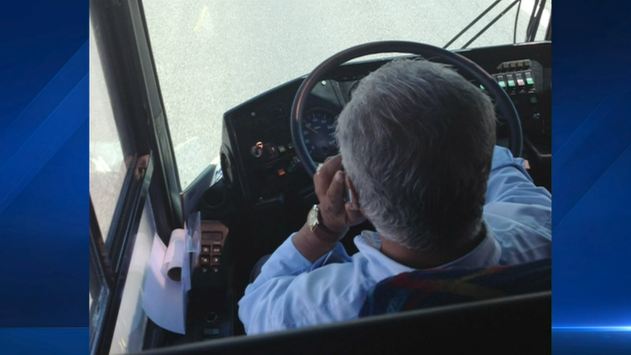 Jinel is terrified to fly.
"I'm one of those people that has to get a Xanax, prescribed to me so I can get on an airplane," she says.
So when her childhood friend was getting married in Las Vegas, Jinel thought taking an American Lion bus from Los Angeles was a good idea. Now she says she couldn't have been more wrong. She spoke to us on the condition we would not use her last name.
"I was terrified for my safety the whole time," Jinel said. She says the ride back to Los Angeles was nightmarish, as she described a scene where her driver was texting and talking repeatedly on his phone, all without a hands free device. "He's taking calls and making calls," says Jinel, all while swerving through traffic.
"I'm thinking I'm probably going to die."
So she reached for her phone and began clicking off photographs. One appears to show the driver texting on his phone, with his speedometer pegged north of 80 mph. Another appears to show the driver looking at some paperwork. She says she was directly behind the driver and was shocked at what she was witnessing. " He's taking both hands off the wheel ..and he's looking at the paperwork while he's driving.
It was enough for her to send the pictures to the NBC4 I-Team. We began investigating. So did the California Highway Patrol, who inspects buses.
The CHP inspection of American Lion was obtained by the NBC4 I-Team. It shows three of the company's buses were taken off the road because of serious violations. One of the buses was cited for violations with its brakes, while all were cited for what the CHP calls an "exhaust condition. Shawn Ripley of the CHP says exhaust fumes were leaking into the passenger compartments of the buses.
"We found some safety deficiencies," says Ripley. "We were concerned."
The CHP gave American Lion 120 days to fix the violations or face being shut down.
This all comes as the NBC4 I-team exposed a number of safety violations in a number of bus companies. From poor maintenance, to distracted driving, the violations have led both the CHP and the federal Department of Transportation to crack down on a number of companies found out of compliance with state and federal regulations.
American Lion manager Maria Carillo says her company had received other complaints about Jinel's driver, and that he has been fired. She also tells us her company has already addressed most of the problems pointed out in the CHP inspection.
Jinel says that's exactly what she wants. "I want them to either review their practices or be shut down before they get people killed.
NBC4's Joel Grover and Phil Drechsler contibuted to this report.