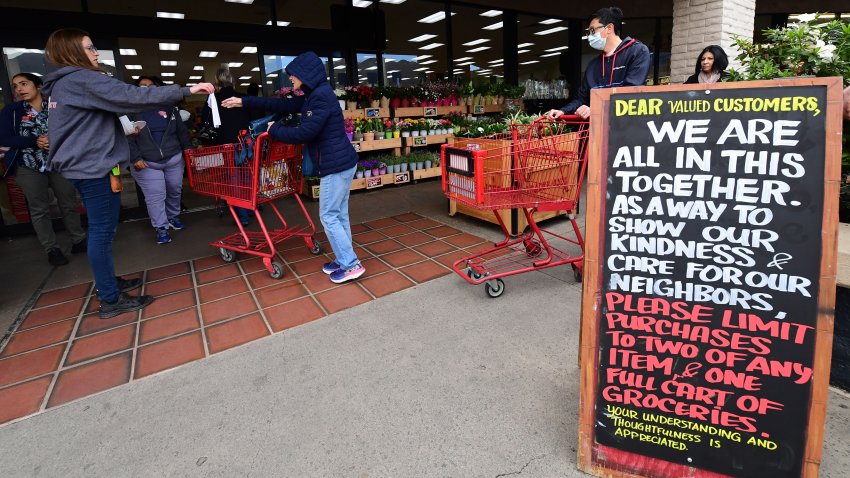 Grocery stores throughout SoCal have begun offering designated "Senior Citizen Shopping Hours" for senior citizens to shop amid coronavirus concerns. Here's a list of stores, cities and other organizations offering additional services to seniors.
Albertsons: Locations will reserve two hours -- 7 a.m. to 9 a.m. -- for senior shoppers on Tuesdays and Thursdays.
Aldi: Stores nationwide will open at 8:30 a.m. on Tuesdays and Thursdays and reserve the first hour of business for senior citizens, expectant mothers and those with underlying health concerns.
Baron's Market: Seniors 65 and older and people with disabilities will have the store to themselves from 9 to 9:30 a.m.
Big Lots: The first hour of each day will be open for senior citizens and vulnerable shoppers.
Costco: Customers aged 60 or older will be able to shop exclusively between 8 a.m. and 9 a.m. on Tuesdays, Wednesdays and Thursdays. The members-only chain also began expanded hours on March 24.
"The pharmacy will also be open during this hour; however the food court will maintain its normal operating schedule," Costco wrote in a Facebook post. "These hours apply to all locations except the Business Centers, which will remain open during regular hours."
Dollar General: The first hour of operation is dedicated to senior customers.
El Segundo: The Rotary Club of El Segundo and City of El Segundo Recreation & Parks Department developed a COVID-19 Senior Outreach program to help senior shoppers. Requests are limited to 15 items. Shopping and deliveries are done on Tuesday, Thursdays and Saturdays. Call 310-524-2705 or email outreachhelp@elsegundo.org.
Erewhon Market: Erewhon will open early from 6 a.m. to 7 a.m. for the elderly and immune compromised.
Gelson's: Seniors can shop from 7 a.m. to 8 a.m. at Gelsons locations.
Grocery Outlet: In a Facebook post, the Atladena location of the Grocery Outlet said that starting Thursday, March 19, only shoppers older than 60 will be allowed to shop in the store from 7 a.m. to 8 a.m. In a Facebook post, the owners said the store would be freshly cleaned, fully stocked and only allowing elderly shoppers in order to reduce the chance of coronavirus containment.
The owners are asking any senior citizen that cannot into the store due to illness to contact them and they will arrange a way to get their groceries to them.
This offer does not apply to all Grocery Outlet locations, just the Atladena location. The Altadena branch of the Grocery Outlet is located at 2270 Lake Ave, Altadena, CA 91001.
Leave It To Us: The COVID-19 shopping service connects senior citizens with college students who will go out to do grocery shopping for seniors and deliver the groceries right their doors free of charge.
Northgate Gonzalez Market: All 41 Northgate Gonzalez Market stores throughout SoCal will also open early to help the elderly and disabled from 7 a.m. to 8 a.m. in addition to its regular store hours.
Super A Foods: Super A Foods also announced a "Senior Shopping" period from 7 a.m. to 8 a.m. for people older than 65 beginning Tuesday.
Target: The first hour of shopping each Wednesday will be reserved for vulnerable guests, including seniors and those with underlying health concerns.
Torrance: The city of Torrance is offering a grocery delivery service to the COVID-19 at-risk population starting March 31. The Torrance Cares 2-Go Care Package will provide 18 preselected essential grocery and sanitary products for $70 delivered to their door. Torrance seniors, those with disabilities and residents with underlying health conditions are all eligible.
Trader Joe's: Effective March 23, between 9 a.m. and 10 a.m. daily, Trader Joe's will have an additional line outside the front door for senior customers. They will have an expedited entrance to the store.
Vallarta Supermarkets: Starting Wednesday, seniors, pregnant women and customers with disabilities can shop early from 7 a.m. to 8 a.m.
Walgreens: Starting on March 24, Walgreens will carve out senior shopping time every Tuesday from 8 a.m. to 9 a.m. Walgreens also announced customers 55 years and older will get special discounts on Tuesdays.
Walmart: Starting March 24 to April 28, Walmart stores will host an hourlong "senior shopping event" every Tuesday for customers 60 and older, one hour before stores open to the general public. Pharmacies and vision centers will also be open during this time.
Whole Foods Markets: Starting on March 18, all Whole Foods Market stores will open to customers who are 60 and older one hour before opening to the public. Whole Foods Market stores will close up to two hours early to give employees more time restock shelves and clean. Stores will remain open for pickup during those times.