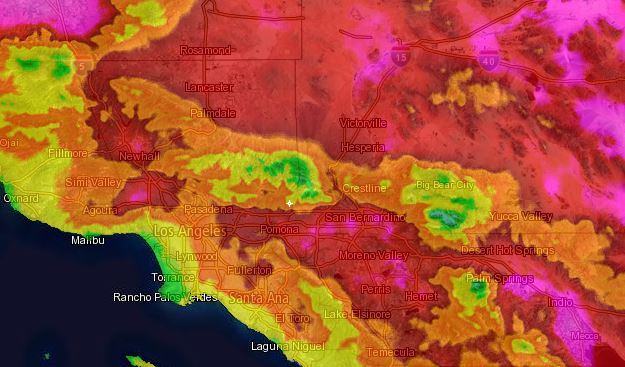 Hot and humid days are ahead for Southern California as rain, thunderstorms and the risk of dry lightning move into the region.
Leftover moisture from weakening Tropical Storm Blanca will make its way into the Southland through Tuesday before heading east toward Arizona.
The strongest chance for rain and thunderstorms will come Tuesday afternoon, with Ventura and Los Angeles counties expecting the highest totals, according to the National Weather Service.
A risk of dry lightning is also sparking concerns for firefighters gearing up for a dry fire season during the state's historic drought.
Temperatures on Monday reached the upper-90s in the San Fernando Valley and 101 in Riverside, and triple-digits were expected to continue in low desert areas through Thursday.
Temperatures on Tuesday will range from the mid to high 70s in coastal areas, with lower to mid-80s inland, and a 40 percent chance of daytime rain. The Inland Empire and low desert areas will see temperatures in the 90s.
Warm weather will continue on Wednesday with high temperatures forecast to range from the mid-60s to around 70 at the beaches, and from the mid-70s to lower 80s inland.
Fire officials remind residents to not leave pets or people in an unattended car during warm temperatures, and elderly and young people should stay indoors.