Hundreds of mourners gathered at a roadside memorial in Los Angeles on Sunday night to honor a 21-year-old Army veteran who was shot and killed earlier following a dispute that erupted after a party, police said.
Francisco Garcia was shot on a Sylmar sidewalk at about 1:30 a.m. by a man who retrieved a handgun from a car, according to Los Angeles Police Department detectives.
Garcia died at the scene from an apparent gunshot wound, the detectives said. No arrests have been made in the case so far.
Lonny Potter, a fellow Army Veteran, said he was touched by Garcia's story and drove several hours from Mojave so he could pay his respects.
"My heart was struck when he would go abroad to serve our country and then come back to die on our streets," Potter said. "It's gut-wrenching. No veteran should ever have to face that."
Garcia, who served in Afghanistan, had recently become engaged and looked forward to one day becoming a father, friends said.
"He was really outgoing, he was really friendly," said Garcia's friend, Maddy Meraz. "I don't know why this would happen to him. I know he really wanted kids, too. He told me he wanted kids when he came back."
Local
Get Los Angeles's latest local news on crime, entertainment, weather, schools, COVID, cost of living and more. Here's your go-to source for today's LA news.
The LAPD released a statement early Sunday morning that Garcia was coming from a party thrown by his girlfriend on Dronfield Street to celebrate his return from Afghanistan about two weeks ago.
"A 22-year-old army veteran, recently returned from Afghanistan, was shot and killed early this morning after a dispute erupted outside a party celebrating his homecoming," read the 4:49 a.m. news release.
But friends of Garcia's disputed to NBC4 that he had come home recently, and a representative of the County Coroner's Office said Garcia was 21, not 22.
Hours after the initial LAPD release, the department appeared to be backpedaling on its assertion.
A detective involved in the investigation said Sunday afternoon that the department now sees no evidence that the party was held in Garcia's honor, and that he returned from the Army in the summer.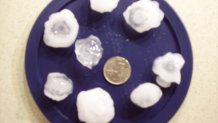 "There was a gathering, but it wasn't specifically for a homecoming," Detective Juan Santa said, though he added it's still possible the party was a homecoming.
Garcia was walking to another location after leaving the party when two vehicles stopped near him and a man exited a dark SUV, Santa confirmed. The suspect, who is not believed to have been at the party, allegedly smashed a beer bottle on the ground and yelled at Garcia before retrieving a handgun from a white sedan and shooting him.
Neighbors said they heard six to eight rounds. No one else was reported injured in the shooting.
Garcia was hoping to join the California Highway Patrol -- he'd already been accepted into the CHP Academy, according to friends. Family members said he was looking forward to earning enough money to take care of his parents.
The friends said Garcia returned from Afghanistan four months ago after being honorably discharged because of an injury. He had served in Afghanistan for 18 months, they said, and was now living at his family's home.
Santa said the information identifying the gathering as a homecoming was sent out based on the "best information that we had at the time."
He noted that the "human element" in the story is not pertinent to the LAPD's investigation.
The commanding office of the Mission Detective Division, Lt. Paul Vernon, said in the early morning statement that the shooting was ironic: "To survive as a soldier in an overseas conflict, only to be killed in your old neighborhood upon your return."
Veterans Day is this Tuesday, Nov. 11.
Garcia's sister set up a fund for funeral arrangements and other expenses. Anyone wishing to donate can do so here.
Correction: An earlier version of this story has incorrectly stated Francisco Garcia's age, based on information provided by the Los Angeles Police Department.

Kate Larsen contributed to this report.