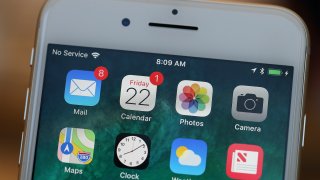 An app called "What3Words," which people often use to meet with friends, or simply to help them locate the place where they parked, is demonstrating that technology can be a great ally in saving lives.
Los Angeles firefighters, who started to use the app recently, say What3Words has already made it easier for them to rescue hundreds of people.
Los Angeles Fire Department personnel perform rescues in the air, water and on the ground. But in the delicate task, firefighters are always fighting against time.
"Seconds make a huge difference in rescuing people, especially if they are having a medical emergency," said David Ortiz, a spokesman for the Los Angeles Fire Department. "Just five minutes can mean the difference between life and death".
During an emergency, especially when people are stressed, they lose track of time and space, and they easily forget the street and address where they are.
"There are times when people say: I'm in the coliseum. What part of the coliseum? The stadium? It's huge! I'm at the park! What part of the park?"
In July, the fire department decided to test "What3Words" which, as the name implies, in three words, gives the exact location of a person.
"[The] three words use coordinates. Basically what they have done is they have divided the planet," Ortiz said.
What3Words divides the world into a 10-foot grid of squares and gives each square a unique combination of three random words: a what3words address. For example, hammer.silly.storms will take you to the entrance to the Griffith Observatory, according to Michelle O'Rourke from What3Words.
If you call 911, and you have the 'What3Words' application on your phone, with just three words you can tell the operator your exact location.
"Even if the caller does not have the app installed, City Fire is able to use advanced technology to see the callers three-word location on a map or send them an SMS message that contains a link to see their precise three-word address – which can be read to the call taker, saving precious time during an emergency," said O'Rourke.
In less than a month, "we have had more than 300 incidents where we have used this tool to find people in hard-to-find areas with exactitude," added Ortiz.
If you are interested, you can download the application for free on your phone here.
Three words could be the difference between life and death.
This story first appeared on NBCLA's sister station, Telemundo 52. Haz clic aquí para leer esta historia en español.