Finally, we have an answer. The allure -- no, the downright seduction of this crackling, smoldering, come-hither little strip of lusciousness.
Bacon is irresistible. And now, we know why. Scientists even have a name for the reaction that draws us to it. The story was published all over the place yesterday, and just reading about it made me crave it even more. I can smell it in my brain.
"A chemical reaction is behind the appeal of bacon," says the story on NBCLA.com. The link in the word "appeal" takes us to a story in the UK Telegraph.
"At the centre of it all is the Maillard reaction, a chemical reaction between an amino acid and a reducing sugar which often requires heat. The acid and sugar react to release a huge amount of smells and flavours.

The smell of sizzling bacon in a pan is enough to tempt even the staunchest of vegetarians. There's something deeper going on inside. It's not just the idea of a tasty snack. There is some complex chemistry going on."
Bacon is a deep, primal urge. We all knew that. Now, we have proof.
Really, isn't everything just better with bacon? There's a blog in the LA times that runs down every kind of bacon snack and confection ... the Daily Dish's 1,001 things to do with bacon. My favorite is the bacon bra. Yes, we talked about bacon maple cupcakes a few days ago ... you can add bacon coffeecake and, yes, chocolate covered bacon to the list.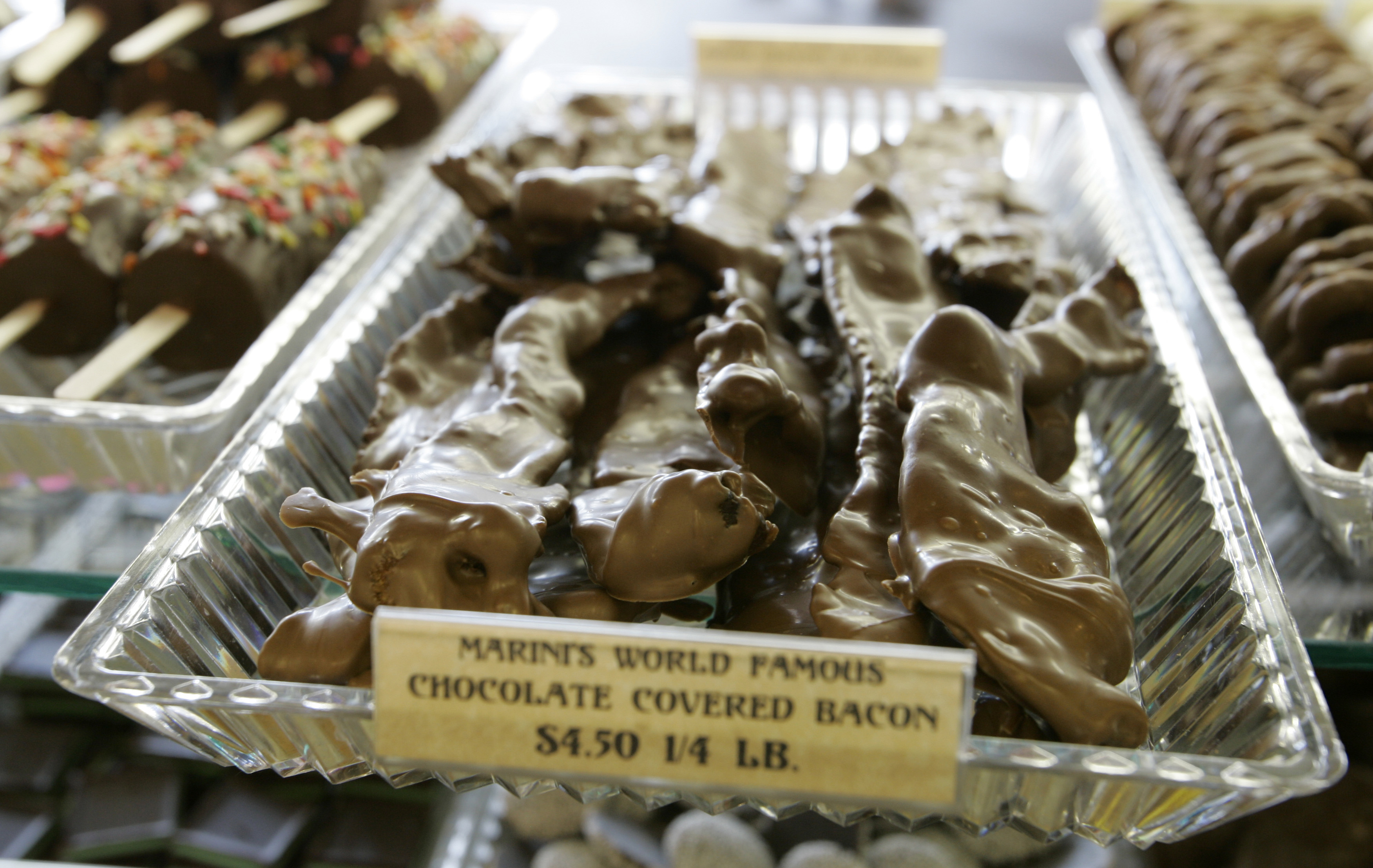 .
Local
Get Los Angeles's latest local news on crime, entertainment, weather, schools, COVID, cost of living and more. Here's your go-to source for today's LA news.
(if everything is better with bacon, wouldn't it be even that MUCH better ... covered in chocolate?)
And if it's a hot happenin' flavor, you know they're going to make a martini out of it. You can bacon-infuse vodka by leaving bacon soaked vodka in a dark place for a few days, chilling it (to solidify the bacon fat) and straining it before serving it, preferably with candied bacon as garnish.
This recipe for Bacon Pancakes with chili-fried apples is classified as "food porn," and I have to say it doesn't seem like an unfair charactarization. So is this recipe for bacon apple pie, maybe served with a scoop of bacon ice cream.
So, it's good to know there's a scientific reason for the hoopla. If you're still not convinced bacon is the best thing in the world, watch this video to the left. It's sure to trigger something.
Meantime, let's go into a little more detail on this so-called "Maillard reaction." Elin Roberts, from the Centre for Life in Newcastle (where the research was conducted) says it's a delicate balance of meat, fats, sugar, and heat:
"Meat is made of mostly protein and water. Inside the protein, it's made up of building blocks we call amino acids. But also, you need some fat. Anyone who's been on a diet knows if you take all the fat from the meat, it just doesn't taste the same. We need some of the fat to give it the flavour.

"Fats mean that there are some reducing sugars in there as well. When it's really hot - that's when the Maillard reaction starts," she added.

While the chemical reaction releases hundreds of smells and flavours, Elin says that it is the smell that reels in the eater. "Smell and taste are really closely linked. If we couldn't smell then taste wouldn't be the same," she said.
I also think the sound of bacon is a sort of come-hither hint. Actually, on David Letterman a few weeks ago, Denis Leary says just hearing the name Kevin Bacon gets him to thinking about frying some up. And, he adds: "Canadian bacon isn't bacon. That's just ham, cut into a circle."
I leave you with a tasty dessert, with apologies to my Armenian mother, who is a cinnamon-sugar-and-nuts purist when it comes to Baklava.
With thanks to Nina and her website Sweet Napa for leading me here ... something about this bacon baklava stirred something in me.
Could be nausea. Not sure 'til I try it, but I bet I will.
Editor's Note: "No pleasure is comparable to the standing upon the vantage-ground of truth." -- Sir Francis Bacon. Still hungry for more Baconian philosophy? Chew on this.