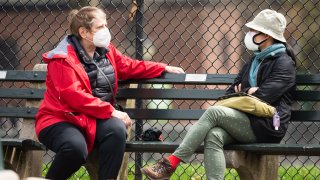 With Los Angeles County now in the yellow tier of the state's COVID-19 reopening blueprint, Burbank has lifted its separate face-covering order and will follow the Los Angeles County order, the city announced.
The move took effect Thursday.
The LA County order outlines when people can go without a mask in public -- and applies only to those who are fully vaccinated.
According to that order, those who can go without a mask may do so
when outdoors, are vaccinated, and are:
Alone;
With members of their household;
With a small group of people they know are fully vaccinated;
With a small group of people who are not fully vaccinated and not at higher risk of severe illness or death from COVID-19.
There are still many requirements for wearing masks indoors and outdoors in LA County. Details are available on a fact sheet here.
California COVID-19 Vaccinations
The map tracks the number of doses administered by a recipient's county of residence according to the The California Department of Public Health.
Source: The statewide totals for doses administered reflect Centers for Disease Control and Prevention data. Otherwise we used data from the California Department of Public Health.
Amy O'Kruk/NBC
Copyright CNS - City News Service