Eleven people, most of them children, were injured Wednesday afternoon when a 100-year-old man backed his car out of a supermarket parking lot and collided with a group near a school in South Los Angeles.
As of 11 p.m., two children remained hospitalized, one was listed in critical condition, the other in serious condition.
Counselors are set to be available at Main Street Elementary School on Thursday for students who witnessed the collision.
The crash occurred at about 2:30 p.m., shortly after school let out for the day, according to the Los Angeles Fire Department. Eleven people were hospitalized: two adults and nine children, four of whom were seriously injured.
The driver was backing out of the parking lot of a Food 4 Less supermarket near Main Street Elementary School when he collided with the group near 53rd Street just east of Main Street (map).
"I was backing out of the parking lot to go home and lost control. The brakes quit, failed, something," the driver, who was identified as Preston Carter, told reporters on the scene. "I'm sorry."
Witnesses say they banged on the man's windows and yelled to try to get him to stop.
Local
Get Los Angeles's latest local news on crime, entertainment, weather, schools, COVID, cost of living and more. Here's your go-to source for today's LA news.
A woman says she was carrying her 1-year-old daughter when she was hit. Fearing her baby would get trapped under the car, the woman says she threw her in the air. Both were briefly hospitalized.
When asked his age by a reporter, Carter, pictured below, said he was 101 years old. Carter then said he was born in September 1911, making him 100.
In an interview with NBC4, Carter said he was unhurt. He said he was not given a ticket at the scene, and added that his license was set to expire Sept. 5.
"It was not on purpose, because I love everybody," Carter said. "I put God first."
His daugther, Rose Jenkins, said that she had wanted Carter to stop driving for the past year.
"I think this is a wakeup call for him and I don't think he will be driving any more," Jenkins said.
In an interview with NBC4, Carter's daughters defended their father as having "his right mind," but reiterated that he would no longer drive.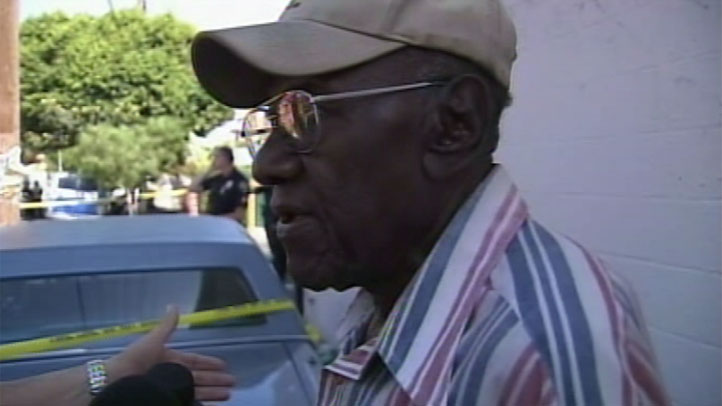 The vehicle involved appeared to be a gray or silver Cadillac Sedan de Ville. It was impounded. Investigators said they would inspect it for mechanical problems.
At about 5:15 p.m., aerial video showed authorities putting one of Carter's daughters into a similar car's driver seat and Carter into the passenger's seat. That vehicle pulled away from the scene, while the car involved in the crash remained on scene.
Officials with Los Angeles County+USC Medical Center said five children and one adult injured in the collision had been taken there.
Just after the collision, aerial footage of the scene provided by Newschopper4 showed a child in a pink T-shirt being loaded into an ambulance as firefighters and police officers interviewed witnesses.
Yellow "Caution" tape was draped over the sedan, parked on the sidewalk, and on a black Honda sedan alongside it on the street.
At one point, a young girl sat the arms of an adult talking with a firefighter, a pink Hello Kitty backpack on the ground nearby. Fire trucks were pulled up alongside a school bus at the scene.
A post on the Facebook page of the Los Angeles Unified School District said at about 4 p.m.: "There are many children still on campus. Parents, please meet your children at the reunion gate, at 52nd and Wall."
NBC4's John Cadiz Klemack contributed to this story.
Follow NBCLA for the latest LA news, events and entertainment: iPhone/iPad App | Facebook | Twitter | Google+ | Instagram | RSS | Text Alerts | Email Alerts