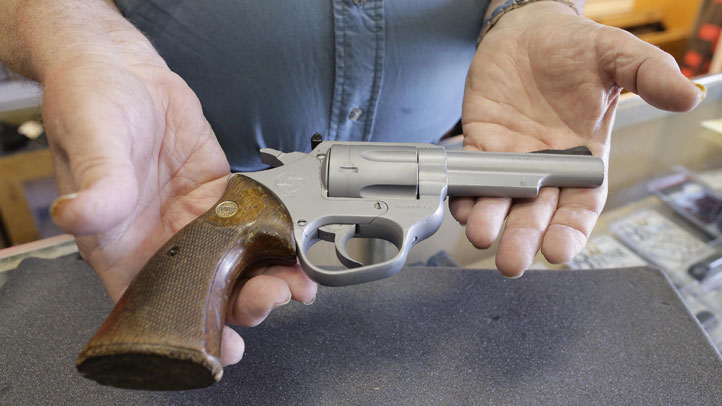 A gun once owned by rogue ex-LAPD officer Christopher Dorner, who killed four people and led authorities on a massive manhunt in February, has sold at auction for more than $4,000.
Without its association with a now-notorious killer, the firearm was worth between $200 and $300, according to the seller.
North Las Vegas pawn shop Bargain Pawn had posted the .38 mm Astra 960 revolver for sale on gunbroker.com on April 9 in a move that was criticized by law enforcement.

The sale closed on Tuesday with a top bid of $4,025. The gun was sold "as is" but was described as being "fully functional."
Local
Local news from across Southern California
"We were surprised that it went for that," said shop general manager David Bramlett told NBC4. "It's good."
Dorner was killed by an apparent self-inflicted gunshot wound after a firefight and subsequent fire at a Big Bear-area mountain cabin on Feb. 12 following a vendetta-fueled shooting spree. The former Los Angeles Police Department officer had been spotted in surveillance video at the North Las Vegas store about a month before his death.
A description on the auction page had described Dorner as a "coward and murderer," and notes that Bargain Pawn turned over to investigators the surveillance video of the sale of the gun.
The gun was sold to the pawn shop on Jan. 15, according to the auction page. Bramlett said he had personally bought the gun from Dorner, who was a previous customer at the shop.
"I really didn't want the gun because it is a cheaper gun," Bramlett recalled. "I offered him $50. He was polite, cordial, professional."
Bramlett said he wanted the proceeds from the sale to be donated to families of a Riverside police officer and San Bernardino County sheriff's detective that Dorner killed. But Bramlett was aware that San Bernardino County Sheriff's Department spokeswoman Cindy Bachman had said money associated with Dorner would not be accepted.
"It would be best if they would accept the money," Bramlett said of the families. "If not, we'll look for a chartiable donation."
Bramlett said the money may go to a homeless shelter.
He said he could not divulge information about the buyer for privacy reasons.