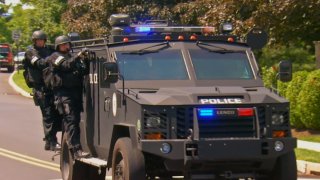 A domestic violence suspect that was barricaded for hours inside a mobile home in Riverside Saturday night amid reports he shot and wounded his wife was found dead inside the home, according to Riverside police.
The incident began about 4:10 p.m. at the King Arthur Estates Mobile Home Park in the 100 block of Sir Bedivere Drive, according to Riverside police Officer Ryan Railsback.
The woman was taken to a local hospital where she later died from her injuries.
"This is still a very active situation, so we are not providing any more information right now," Railsback said.
The suspect believed to be the woman's husband barricaded himself inside a mobile home for hours.
The SWAT team was also present at the scene of the crime.
There are three children that may or may not have been present during the shooting, but they are now safe with family.
The children's ages and genders are still unknown.
As of 9:50 p.m. the suspect was still barricaded and had not followed any of the law enforcement demands, according to Riverside Police Department.
After a lengthy barricaded situation with no response by the suspect, SWAT officers entered the house and located him deceased.
Detectives will be at the scene overnight conducting an investigation.
Copyright CNS - City News Service