What to Know
After a scorching Saturday, temperatures will be even warmer in some areas on Sunday.
A Flex Alert power conservation advisory will be in effect through Monday from 3 p.m. to 9 p.m.
The extreme heat is expected to continue during evening and overnight hours through Monday.
Southern California is in for a string warm days with excessive heat warnings in effect for a widespread part of the region through Labor Day weekend.
The early September heat wave is bringing temperatures in the triple digits with little relief during the evening hours. The unrelenting heat will create a high risk of heat-related illnesses and an increased threat of wildfires and power outages over the Labor Day weekend.
Photos: Scenes From SoCal's September Heat Wave
The peak of the heat comes when temperatures top out Sunday at 115 degrees in Woodland Hills — a rise of more than 25 degrees from Thursday. Temperatures will drop to 108 on Monday in the west San Fernando Valley community. Similar spikes are expected throughout SoCal.
In downtown LA, a high of 102 is expected Sunday before a drop to 96 degrees for Labor Day.
Highs this weekend in LA, Anaheim, Riverside, Woodland Hills and other areas will likely smash records, some of which have stood for decades.
"This is something that we cannot mess around with," said NBC4 forecaster Shanna Mendiola. "Yesterday was hot, and we'll see that again today, even hotter than a few degrees from what we saw Saturday."
Even areas that usually offer some respite from the heat, such as beach and mountain communities, will see temperatures in the 90s.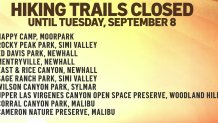 Hiking trails in the Santa Monica Mountains in Malibu and trails in Burbank were closed due to the dangerous heat. A woman's death Saturday in Malibu Creek State Park is apparently heat-related.
The state's power grid operator on Thursday announced a Flex Alert -- a voluntary call to conserve power statewide -- will be in effect Saturday through Monday from 3 p.m. to 9 p.m.
Gov. Gavin Newsom declared a state of emergency Thursday night, temporarily suspending certain pollution regulations and permit requirements for power plants so that they can produce more electricity.
An excessive heat warning will be in effect until 8 p.m. Monday in the San Gabriel and Santa Monica mountains, and the San Fernando, Santa Clarita, San Gabriel and Antelope valleys. In Orange County, the warning will be in force in coastal areas from 10 Saturday morning until 8 p.m. Monday.
The high heat is being attributed to high pressure, which was centered near the California-Nevada border Wednesday evening and is forecast to settle into the Great Basin area through the weekend.
Compared to earlier in the week, temperatures will be up 11 degrees higher on Sunday, then begin a sharp decline, though by Wednesday several communities will still be in the 90s -- 98 in the case of Woodland Hills.
Coastal communities will climb up to 109 Saturday, about the same as inland communities, which is unusual. By Wednesday, Mission Viejo will reach 90 degrees but all other locales will be in the 80s, except at the coast, which will have reverted to the high 70s.
In Riverside County, humidity will drop to 10-15 percent on Saturday and wind gusts out of the east are expected to reach 20-30 mph, setting the stage for near critical fire weather conditions in the inland valleys throughout Southern California until Tuesday.
An excessive heat warning throughout Riverside County last through 8 p.m. Monday.
Highs in the Coachella Valley could reach 120 on Saturday and Sunday, while the mercury in the Riverside metropolitan area is expected to soar to 115 in some communities both of those days.
Heat Tips and Stay-Cool Strategies
Stay hydrated! The more hydrated you are, the more effective your body will be at keeping you cool. Drink water – not fizzy and alcoholic drinks, which will dehydrate you.
Avoid exercise in the middle of the day. If you need to exercise outside, do it early in the morning when the temperature is lower.
Wear lightweight, light-colored natural fabrics like cotton and linen, as these will help your skin breathe and let your sweat evaporate, cooling you down.
We sweat around half a pint daily from both feet (and we wonder why they stink!), so if you can, wear sandals or flip-flops to let your foot sweat evaporate.
Use a fan to circulate air from open windows. Keep your blinds or curtains drawn during the day, so your home doesn't heat up while you're out. Turn off big appliances and help prevent brown-outs!
To cool down quickly, run your wrists under a cold tap or keep a water spray in the fridge for a quick cooling spritz to the face.
Keep some wet wipes in your bag so you can freshen up your hands, face and neck if you get hot or clammy.
Want to stay cool at night? One way is to wash your feet in cool water or take a cold shower before bedtime – especially if you get hot during the night or have hot sweats.
To cool down in bed, try keeping your pillowcase or sheets in a plastic bag in the fridge during the day. Put them back on the bed at night. The fabric will stay cool when you're trying to get to sleep.
And bring your pets in and make sure they have shade and water.
Be prepared for power outages and know where cooling centers are!
Copyright AP - Associated Press