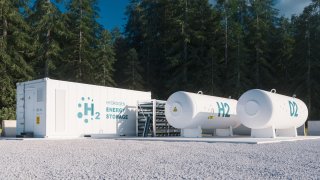 On Monday, the Green Hydrogen Coalition, the Los Angeles Department of Water and Power and other key partners announced the launch of HyDeal LA, an initiative "to achieve at-scale green hydrogen procurement at $1.50/kilogram in the Los Angeles Basin by 2030," according to a news release from the Green Hydrogen Coalition.
HyDeal LA plans to launch a commercial green hydrogen cluster at scale in an attempt to overcome the high cost of hydrogen, which the release calls "the biggest barrier to the green hydrogen economy."
According to the release, green hydrogen is "an abundant, carbon-free, and safe energy carrier that can be produced from renewable electricity and water or organic waste," that "can be used as a carbon-free fuel," as a power source for power plants, steel mills and hydrogen fuel cell vehicles, and "can provide long-duration seasonal energy storage."
"HyDeal LA is a collaboration of developers, green hydrogen off-takers, integrators, equipment manufacturers, investors and advisors" that aim to focus on green hydrogen in the LA Basin, the release said. Members in the group include 174 Power Global, Mitsubishi Power, and SoCalGas, the release states, and key implementation partners include Clifford Chance, Corporate Value Associates, Cranmore Partners, Energeia, Marathon Capital, Sheppard Mullin, and Strategen.
"As Governor Newsom said during the release of the May Revise Budget last Friday, we need to focus on green hydrogen in this country, and California needs to compete in this space," said Dee Dee Myers, Senior Advisor to the Governor and Director of the Governor's Office of Business and Economic Development, in the release.
"Delivering on the promise of green hydrogen means collaboration and implementation, which are the foundations of the HyDeal LA initiative," Myers said. "Success means clean air, reliable power, zero-emission transportation, and importantly jobs and sustainable economic development."
HyDeal LA is the first part of HyDeal North America, launched by the Green Hydrogen Coalition and dedicated to deploying green hydrogen at scale to decarbonize multiple sectors, according to the release. The LA collaboration is modeled after HyDeal Ambition, a similar project in Europe committed to producing and purchasing 3.6 million tons of green hydrogen per year for the energy, industry, and transportation sectors at €1.5/kg before 2030.
The recently completed Los Angeles 100% Renewable Energy Study, and other studies, point to the need for renewably fueled combustion turbines—available for limited periods—to achieve reliable 100% renewable electricity, the release said.
"Green hydrogen is the key to reliably achieving 100% renewable energy," Martin Adams, General Manager and Chief Engineer at LADWP, said in the release.
"We are pleased to join the HyDeal LA effort, which includes an innovative and expanding vendor and development community, to support and help catalyze the supply chain needed to achieve large-scale, low-cost green hydrogen power supply for our local in basin plants," Adams said.
Phase 1 of HyDeal LA will determine the necessary supply chains to achieve green hydrogen in the LA basin for $1.50/kg, according to the release. It will also allow members of the group to agree, in-principle, on the terms and conditions of production, storage, transport and delivery of green hydrogen, "all of which will be required to establish the green hydrogen ecosystem and economy in Los Angeles," the release said.
"In Southern California, the confluence of geography, visionary climate policies, and public-private partnerships like HyDeal LA mean we are well positioned to develop transformative, pragmatic and globally scalable solutions toward an integrated, and carbon-free energy system," said Scott Drury, SoCalGas CEO, in the release.
"Hydrogen will play an important part in helping SoCalGas reach our goal of achieving net-zero emissions by 2045, in keeping utility bills affordable for families and businesses, and in keeping energy reliable and resilient as we make the transition," Drury said.
Janice Lin, founder and president of the Green Hydrogen Coalition, cited the "visionary municipal leadership, forward-thinking utility partners, major off-takers committed to a low carbon future including power generation, industry, and port refueling operations, and lots of available renewable energy sources for green hydrogen production" as reasons the organization chose LA.
"Green hydrogen is a game changer in achieving deep decarbonization of multiple sectors, and Los Angeles is the perfect place to launch the first HyDeal North America," Lin said.