The number of okapis at the Los Angeles Zoo now stands at four, with the birth of a female calf of the unique species nicknamed the "forest giraffe," it was announced Tuesday.
The as-yet unnamed calf was born on Nov. 10 and spent the first couple of months behind the scenes, but can now be viewed by zoo visitors daily. She is the second offspring for mother Opey and father Jackson and joins 4-year- old brother Berani, the first calf to be born at the L.A. Zoo since the species was added to its collection in 2005.
"I am thrilled to welcome this new Angeleno into the world, and congratulate the staff at the Los Angeles Zoo, and her mom, Opey, on the birth of this Okapi calf," City Councilman David Ryu said. "This rare and beautiful animal is a testament to the Los Angeles Zoo's incredible work caring for and fostering endangered animals."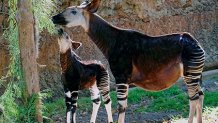 A reclusive species rarely seen in the wild, Okapi are native to central Africa and were discovered by Europeans in 1901. Although often confused with a zebra due to the black and white striped patterns on its front and hind legs, the okapi is actually the closest living relative to the giraffe.
The new calf's parents were paired together as part of an Association of Zoos and Aquariums Species Survival Plan program with the goal of increasing the okapi population, which is rapidly declining in the wild, zoo officials said.
"There was a time not so long ago when having okapis in a zoo was extraordinarily rare," said Josh Sisk, curator of mammals at the Los Angeles Zoo. "But, due to Species Survival Plan programs being so proactive and being able to breed these animals in zoos, the captive population is doing extremely well."
Copyright CNS - City News Service