I always thought the only crime you had to commit to be able to afford yourself some oceanfront living was to lie on your loan application. But I had forgotten about San Quentin.
With all this talk about budgets and money and shortfalls and cuts, government agencies all over the country (and really all over the world) are digging deep, looking for ways to save. And really, aren't we all? How many times have you been hit up this week by friends selling MonaVie or those Video phones, as featured on The Apprentice? So it's no surprise that some California lawmakers are looking at selling San Quentin for ... about TWO BILLION DOLLARS!
I mean, LOOK at this place! We were talking about it at lunch yesterday, and when I was reading the flood of budget-cut stories we always have on the air this morning, I thought about it again and decided to look up the Wall Street Journal story on this proposal, called "San Quentin Seen as a Hot Property:" It says:
"State Sen. Jeff Denham, who has sponsored a bill to sell the complex of historic buildings for private development, thinks the proceeds could help replenish California's recession-depleted coffers.
"I believe maximum-security inmates shouldn't have waterfront property," said Mr. Denham, a Republican from Modesto, in the state's Central Valley. "They could build a new facility somewhere else in the state and it could be done at a fraction of the cost."
Really? A Modesto lawmaker sponsored this bill? I wonder how he'll feel about it when they re-locate San Quentin's 5,300 inmates to, say, Modesto.
All that aside, look at it this way. San Quentin is a 436-acre peninsula of oceanfront real estate in Marin County. At lunch, my friend Keiko quipped that you probably wouldn't even have to develop it ... just cut the thing into crazy loft space with panoramic windows and sell them for a couple million dollars each.
Well, it might need a LITTLE something.
Local
Get Los Angeles's latest local news on crime, entertainment, weather, schools, COVID, cost of living and more. Here's your go-to source for today's LA news.
The Wall Street Journal story goes into detail on operating budgets and costs of building something else and concludes that California would net around a billion dollars from the sale. And this has been a long time coming:
"California chose the peninsula for its remoteness and the security provided by the water, hills and marshland. But over the years, homes and shops have filled land nearby. Windsurfers flash over the waves just offshore, and on warm days sunbathers recline on the beach just yards away from the prison's walls.
"In 1971, Gov. Ronald Reagan promised to "take the first step toward closing San Quentin" so it could be turned over for development. In 1981, the Legislature's criminal-justice committee proposed selling it and using the proceeds to help fight crime. And a 2004 report concluded that selling San Quentin would help address "fundamental regional issues such as transportation and housing."
Now could be the time!. Just look at this place!
Another story on this proposal on a website called The Luxist says there's a hearing on this March 31st -- that's next Tuesday.
The comments on the LA Times blog on the subject made me laugh. Some, like "Dax," think it's a brilliant idea:
"I'm 38 this year and ever since I was a child, I always thought this property was such a waste of a beautiful landscape. I even used to ask my parents if I could live there someday. They would laugh at me, but I guess I may get the last laugh after all. If you have driven by it, you know how great it is."
No, son. We can only hope you don't live there some day! "Ace" was a little sarcastic and said, "Good plan... don't sell the property during the boom when it was worth much more... wait until the bust." And "Jason" took that a step further:
"Selling prison real estate, even prime beach real estate, during a recession caused by falling prices for real estate, during a period when the jails are so overcrowded that we theoretically need a lot more of them, not less. Yeah, that definitely doesn't sound like the brightest of ideas."
I also think that maybe the developers will have to update their video tour of the property if they want to get top dollar. This YouTube video gives you a good look at some of the real estate but doesn't give you a great appreciation for the rich history of the property.
Wikipedia says:
"The methods for execution at San Quentin have changed over time. Between 1893 and 1937, 215 people were executed at San Quentin by hanging, after which 196 prisoners died in the gas chamber. In 1995, the use of gas for execution was ruled "cruel and unusual punishment," which led to executions inside the gas chamber by lethal injection.
"Between 1996 and 2006, 11 people were executed at San Quentin by lethal injection.The death row at San Quentin is divided into three sections: the quiet "North-Segregation" or "North-Seg," built in 1934, for prisoners who "don't cause trouble"; the "East Block," a "crumbling, leaky maze of a place built in 1927"; and the "Adjustment Center" for the "worst of the worst."
Can you just see the "Adjustment Center" as the name and location for the new Homeowner's Association's on-site watering hole?
In an effort to somehow work dogs into this San Quentin stuff today so I can post a picture of this puppy that I'm babysitting,
OH LOOK at that, there she is!!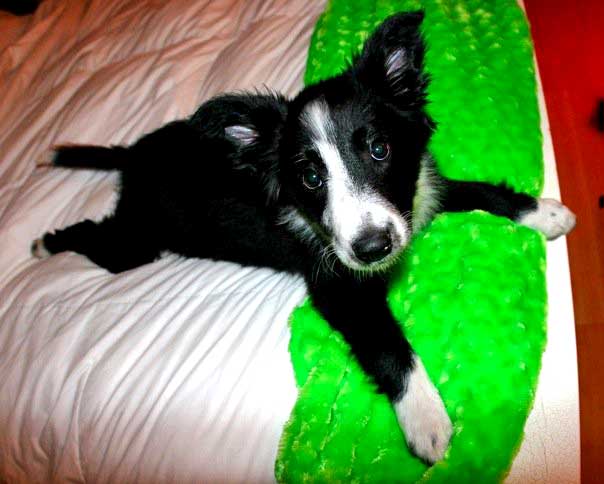 And she's getting along very well with my dog. HA wow here HE is too!!
Web editor Jon Lloyd Googled "San Quentin" and "dogs" to see if we could find a natural transition (which he did; the San Quentin Pen Pals -- "pen" for penitentiary I guess?) which is a great program that allows inmates to rehab Humane Society dogs with special needs, but I prefer the awkward transition, which is to say, well, look at this video!
His name is Buford, and he got stuck up a tree. Dog lovers like myself, well, I just laugh and say, "dummy." I used to laugh at my cat when he'd get himself in a jam, but they say cats always figure out their way back down. Well, not the case for dogs.
Our Web Countess Bonnie Buck, another dog lover, wrote the story on nbcla.com:
"A family near Knoxville, Tennessee had to call in a bucket truck to get their 5-month-old hound dog, Buford, out of a very tall tree. It's not clear how Buford made it up the tree, but he must have been motivated. Perhaps he was chasing a cat, or just wanted to get closer to the moon, to howl at.
Either way, rescuers successfully got the precocious pooch down from his perilous perch -- at which point he made the rounds, greeting his family and thanking the rescue crew with sloppy dog kisses. "