An unidentified 16-year-old family member has been arrested on suspicion of murder in the death of Menifee, Calif., boy Terry Smith, city Police Chief John Hill said Wednesday afternoon.
In the fourth day of a search for the 11-year-old that brought out hundreds of volunteers, Hill said partially exposed human remains had been found in a shallow grave of the backyard of the Smith home.
The remains are believed to be those of the boy, Hill said.
The occupants of the Smith home had been interviewed by investigators at the police station after investigators responded early Wednesday morning to a report of remains found, Hill said.
"As a result of those interviews, a 16-year-old family member was arrested," Hill said.
Hill would not identify the family member or give any information about the suspect.
Riverside County Sheriff's Department officials had said earlier Wednesday that the boy's mother, Shawna Smith, her partner and a 16-year-old half brother were questioned at the sheriff's station.
An NBC4 source says the suspect is Terry's half brother.
Terry's father, Terry Smith, Sr., said he wasn't surprised at the news of the arrest.
Reached by NBC4 at his home in West Virginia, Smith said his son feared his 16-year-old half brother, who he said had anger issues.
"It didn't come as a surprise with his past," Smith said.
Further complicating the story, Smith said his son did not have autism. Terry's mother, Shawna Smith, told reporters that the boy did.
"Nope, nope, nope," Terry Smith, Sr., said. "In fact, when everyone in West Virginia heard that, they all flipped because they know better. He was a hyper little boy, he might have had ADHD."
Local
Local news from across Southern California
Earlier on Wednesday, investigators had served a search warrant at the Smith home and authorities had been attempting to determine whether remains found behind the residence were those of the missing child, according to the Riverside County Sheriff's Department. The department patrols Menifee under contract; Hill is the acting police chief.
"We conducted multiple searches of the property and were diligent about doing so. Search dogs were used at the property, volunteers and personnel on multiple occasions," Hill said Wednesday afternoon. "Sometimes it takes a while for us to put all the puzzle pieces together in a circumstance like this."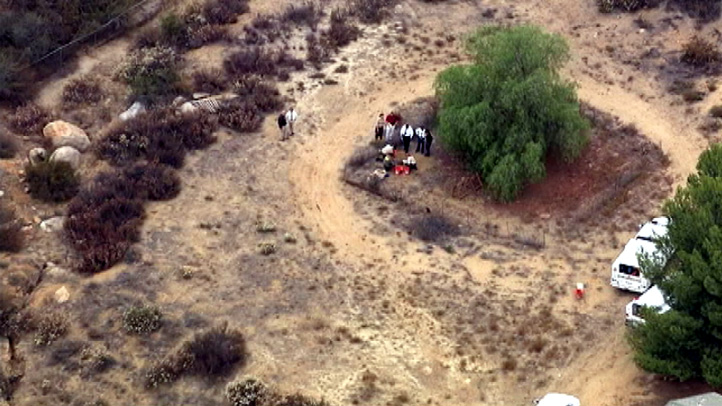 Law enforcement agents suspended their search for missing 11-year-old Terry Smith Wednesday morning as investigators blocked off the area with yellow crime scene tape.
Aerial video showed investigators with a rake, shovel and other hand tools in a large dirt field behind the property. The dig area was along a fenceline next to a large pepper tree behind the Smith residence.
Authorities placed what appeared to be a body on a gurney.
Terry was last seen Saturday at the family home in the 33000 block of Helen Lane (map) in Menifee, about 80 miles southeast of downtown Los Angeles.
Despite suspension of the law enforcement search for Terry early Wednesday, volunteers continued the search late into the morning. Some searchers clasped hands in prayer as deputies were digging.
"We're still holding out hope," said volunteer searcher Bill Gillette. "That's all we have to go with, right now. There wasn't anything specific enough for us to stop looking."

Riverside County Sheriff's Department and forensics services vehicles were at the family's home.

"He's alive. I know he is," his mother, Shawna Smith, told NBC4 Tuesday. "Mommys' hearts don't lie. He's still here — he's somewhere; we just need to find him."

On Tuesday, Menifee police said investigators had no leads after speaking to registered sex offenders in the area about the case.

At about 7:30 p.m. Saturday, the boy's mother went out to play pool with some friends and left Terry with his older half brother. When their mother checked in on them at about 1 a.m., she thought they were asleep.

In the morning, Shawna Smith discovered Terry was missing when she went into the bedroom to give him his medication. She reported him missing at 10:30 Sunday morning.

Terry's half brother said he last saw the boy walking on Helen Lane Saturday night near the family home.
"It's just sadness," said volunteer searcher Angeles Adams, a teacher. "We've lost one of our students."

A vigil was held at about 7:30 p.m. Wednesday at Menifee Market, where a civilian search team was stationed.
There, Smith's family released an unsigned statement:
"Our family would like to ask for the public and the media to allow us to grieve in peace," the statement said. "This has been a devastating week for our family and for everybody involved in the search. We are not prepared to provide an interview at this present time. Allow us to heal and pull ourselves together. This community has been amazing and we appreciate all the support. Our family can't thank each of you enough."
Terry Smith, Sr., said that just months ago, his son told him he wanted to go live with him in West Virginia.
"That was one of the last things I heard my son tell me," Smith said, "that 'I want to move back because my brother and sister there treat me like a brother and not like a step.'"
Anyone with information in the case can contact authorities in Menifee at (951) 210-1000 or the Riverside County Sheriff's Department dispatch line at (951) 776-1099.
EDITOR'S NOTE: This story previously described Terry Smith's half brother as his "stepbrother." The boy's mother, Shawna Smith, described the two as half brothers. The story has been updated to reflect this.
More Southern California Stories: