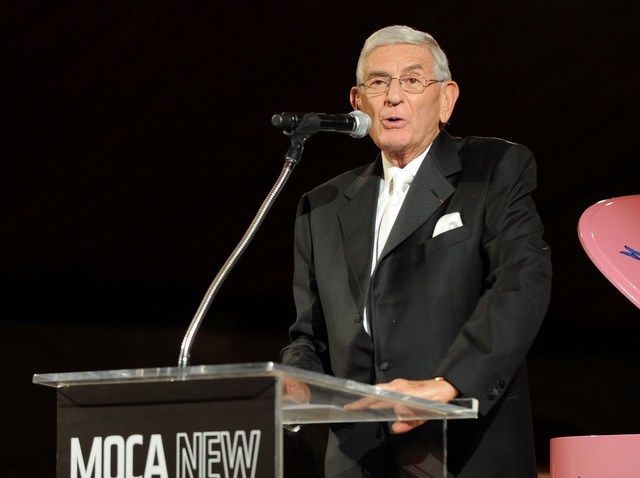 Philanthropist Eli Broad announced Monday that he has chosen downtown Los Angeles over Santa Monica as the site for his contemporary art museum, saying he wanted to help make the downtown area an even bigger cultural destination.
"We believe in downtown," Broad said shortly after the Grand Avenue Authority gave final approval to the proposed downtown museum location as part of the Grand Avenue Project.
Broad had been considering locating the museum in Santa Monica, but he said he chose downtown Los Angeles because he considers it one of the "culture capitals of the world."
Local
Local news from across Southern California
Monday's vote by the Grand Avenue Authority was the final step in the approval process for the Los Angeles location. The project has already cleared the county Board of Supervisors, City Council, and the Community Redevelopment Agency.
Los Angeles officials plan to build the museum on the southwest corner of Second Street and Grand Avenue, next to Walt Disney Concert Hall, on a parcel previously slated for condominium towers.
Santa Monica officials had approved a plan to build the museum on a rent- free site next to the Civic Auditorium.
Both plans called for Broad to make a $200 million endowment to guarantee the museum's operation.
Under the Los Angeles plan, Broad will have to pay $7.7 million to the Community Redevelopment Agency, which owns the land. The money will be used to add affordable housing to the Grand Avenue Project.
Broad will also have to advance the funds for the construction of the museum and a parking lot beneath it, costing between $80 million and $100 million.
Broad said he hopes to start construction on the museum in October, and have it open by 2012.
According to City Councilwoman Jan Perry's office, the museum would create an estimated 1,340 direct and indirect jobs during the construction phase. Once the museum was built, it would create about 100 full and part-time jobs, and contract positions.
The museum is projected to attract 200,000 visitors to downtown every year.

Copyright AP - Associated Press