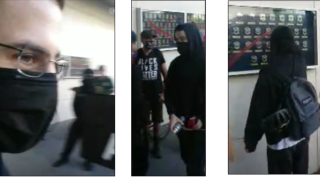 The SAFE LA Task Force is looking for more information on the person that vandalized a police memorial during last month's anti-police brutality protests.
On July 25, a man was caught on camera vandalizing the memorial for the fallen. 
The man was described as being 5 feet 9 inches tall and about 180 pounds.
Police have since released photos of the vandalized memorial for fallen Los Angeles police officers at the Police Headquarters Facility.
The man spray-painted a large red "X" on a glass case containing the badges of fallen LAPD officers. "FTP" was also spray-painted across the walls nearby. 
Those who provide credible information to SAFE LA Task Force, leading to his identification and arrest, could be eligible for a reward of up to $10,000.
Local
Local news from across Southern California
Tips, videos, or pictures can be sent to SAFELATIPS@lapd.online.
Tipsters who would like to remain anonymous can call 213-486-6840.
For more information on submitting tips to SAFE L.A. Task Force, visit http://www.lapdonline.org/safelatips.
Editor's Note: An earlier version of this story indicated that the LAPD was searching for multiple vandals connected to this crime. The department later clarified that they are only searching for one vandal.