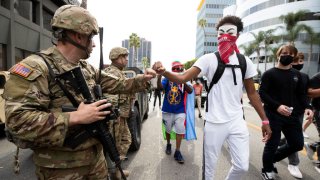 This blog has been archived and will no longer be updated. Click here for Thursday's updates.
Thousands staged protests Wednesday in Hollywood, downtown Los Angeles and other areas over the death of George Floyd, but without the violence that marred some previous demonstrations.
Los Angeles Mayor Eric Garcetti took a knee with demonstrators outside LAPD headquarters. Police cordons, sometimes bolstered by National Guard troops, kept a tight watch on protests as participants and some Guard members spoke with one another.
There was no repeat of the angry battles with law enforcement that made weekend headlines. Nor was there a repeat of widespread looting. However, many cities and counties continued with curfews aimed at preventing violence. In LA, some 200 protesters were arrested and accused of violating curfew.
We'll have updates below on today's protests, marches, demonstrations and other events in response to the death of Floyd.
Update 11:35 p.m.: Downtown LA Protesters Arrested
After a group of protesters were taken into custody by Los Angeles police on the steps of LA City Hall, another group of peaceful protesters gathered in Grand Park. However, due to the park being county property, Los Angeles police had to await the arrival of the LA County Sheriff's Department to make arrests. After a lengthy wait, deputies arrived and took about 100 peaceful dissidents into custody for curfew violations.
Local
Get Los Angeles's latest local news on crime, entertainment, weather, schools, COVID, cost of living and more. Here's your go-to source for today's LA news.
Update 9:50 p.m.: Hollywood Protesters Dance in the Streets
A group of protesters in Hollywood, at the famous intersection of Hollywood Boulevard and Vine Street, were gathered and appeared to be dancing in the middle of the street. Police were nearby and had reportedly informed the protesters that enforcement of the curfew was expected to begin at 10 p.m.
Update 9:10 p.m.: Lights for George Floyd
Residents across the city pointed flash lights and all other manners of lights at the sky in honor of George Floyd.
Some landmarks also took part in the display. Dodger Stadium also lit up in recognition of Floyd, switching on flood lights for 8 minutes and 46 seconds. The Dream Center had its lights moving back and forth, while a group of staff were pointing lights up at the sky on their own.
Update 5:14 p.m.: Bicyclist Struck by Car During Demonstration in Newport
A bicyclist was hit by a Mini Cooper driver amid a group of demonstrators on Balboa Boulevard and was OK, police said.
The collision happened as a series of demonstrations were taking place in Newport Beach and across Orange County.
About 500 protesters were drawn to a rally in Newport Beach, city spokesman John Pope said. Another protest at Newport Pier drew 300 to 400 people and was peaceful, said Heather Rangel, a spokeswoman for the police department.
In Garden Grove a protest attracted 3,000 people between 3 p.m. and 4 p.m. with the group blocking the intersection of Chapman Avenue and Brookhurst Street, Garden Grove Police Lt. Carl Whitney said.
A protest in Rancho Santa Margarita drew about 100 people.
Four separate Black Lives Matter protests were scheduled in Newport Beach, and at least another six protests were planned throughout the county, according to Newport Beach Police Chief Jon Lewis.
Update 4:39 p.m.: Protests Remain Peaceful
Protesters remained peaceful Wednesday afternoon in Hollywood and in downtown Los Angeles.
A crowd, possibly more than 3,000 sat on the streets outside Los Angeles City Hall and the Hall of Justice.
Update 3 p.m.: Protesters March on Highland Avenue
Protesters began marching on Highland Avenue.
Although it wasn't immediately clear, the group was heading toward Mayor Eric Garcetti's official residence in Hancock Park/Windsor Square.
That residence was the scene of a large rally the previous day, on Tuesday afternoon.
Update 2:24 p.m.: Solidarity March for Racial Justice Set for June 14
A march in solidarity with recent demonstrations against racism was set for June 14.
"Fifty years ago Christopher Street West took to the streets of Hollywood Boulevard in order to peacefully protest against police brutality and oppression," said Estevan Montemayor, the board president of Christopher Street West, the nonprofit that produces the annual LA Pride Festival and Parade. "It is our moral imperative to honor the legacy of Marsha P. Johnson and Sylvia Rivera, who bravely led the Stonewall uprising, by standing in solidarity with the black community against systemic racism and joining the fight for meaningful and long-lasting reform."
Update 1:02 p.m.: Downey Protest
Downey police are asking people to avoid Brookshire Avenue between Fifth Street and Firestone Boulevard due to a peaceful protest in the area.
Update 1:08 p.m.: National Guard to Deploy to Culver City Mall
The National Guard will be stationed at the Westfield Culver City Mall, which police say has been been targeted by potential looters in recent nights. At 1 p.m., 25 National Guard servicemembers will provide security to the mall, which has been an apparent target for would-be vandals and thieves, with up to 100 cars circling the shopping center each of the past several evenings, according to Culver City's City Manager John Nachbar.
Update 12:48 p.m.: March in West Hollywood
Protesters have gathered in West Hollywood for a rally organized by the LGBTQ community in support of Black Lives Matter. The city's also announced its curfew will begin at 9 p.m.
Update 11:22 a.m.: LA County Curfew to Start at 9 p.m.
Los Angeles County issued a curfew order that will take effect at 9 p.m. and continue until 5 a.m. Thursday. The curfew starts three hours later than the previous three nights. The curfew does not apply to peace officers; firefighters; National Guard or other military personnel deployed to the area; emergency medical services personnel; individuals traveling to and from work; individuals working on a public work of improvement construction project; credentialed media representatives involved in news gathering; people experiencing homelessness and without access to a viable shelter; and individuals seeking medical treatment.
Update 9:25 a.m.: Streets Closed in Anaheim
The Anaheim Police Department says Anaheim Boulevard between Broadway and Lincoln will be closed until further notice, along with street closures around the department's headquarters at 425 S Harbor Blvd.
Update 9:17: a.m.: Protests Planned in Orange County
In Orange County, four separate Black Lives Matter protests were scheduled for Wednesday in Newport Beach and at least another six protests were planned throughout the county, according to Newport Beach police Chief Jon Lewis.
Noon at MacArthur Boulevard and Pacific Coast Highway.
2 p.m. at the Newport Pier.
5 p.m. at San Miguel Drive and Avocado Avenue.
5 p.m. at Back Bay View Park, Jamboree Road and Pacific Coast Highway.