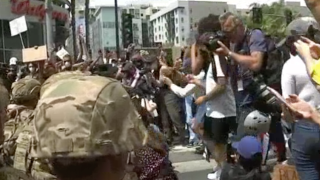 Note: This blog will no longer be updated. Click here for today's updates.
After a night that ended in hundreds of arrest, most or unlawful assembly during another day of curfews in Los Angeles County, more protests are planned for Tuesday in Southern California.
Once again, peaceful protests were marred Monday night by looting and vandalism, this time in Van Nuys and Hollywood.
The protests are in response to the death of Floyd, a handcuffed black man who was pinned under the knee of an officer during an arrest a week ago in Minneapolis. One officer has been arrested and charged in the arrest, which sparked nationwide outrage and demonstrations.
Follow Tuesday's developments in Southern California below.
Update 10:30 p.m.:
Around 25 people were being arrested in East Hollywood, only a few blocks away from a group of about 15 people being arrested. The roughly 40 people were likely being arrested for curfew violations, as the police had been clamping down on people failing to follow the 6 p.m. to 6 a.m. countywide curfews that had been in place for the third straight day.
Update 9:25 p.m.:
At least 100 people near the intersection of 8th Street and Crenshaw Boulevard near the border of Koreatown and Mid-City were being arrested. They appeared to be peaceful protesters, but the large crowd on the street after the 6 p.m. curfew were surrounded by LAPD officers, with about 50 people up against a wall and dozens more on the ground.
Update 9:15 p.m.:
After a group of protesters fled onto the roof of an apartment complex in Hollywood to avoid arrest, police ended a long standoff and took a group of about 20 to 30 people into custody.
Update 7:30 p.m.:
About 10 to 15 people were arrested in Hollywood after an incident where someone threw a water bottle at officers while they were making a traffic stop. The officers chased the person who throw the bottle into an apartment complex.
Then, officers returned to the traffic stop and arrested at least three people who were inside the car, including the driver who was refusing to the leave the car and even attempting to drive away. The officers proceeded to break the driver's side window and remove the man from the car, before tackling him and taking him into custody.
As this scene was playing out, a group of onlookers appeared to be exchanging words with the officers, who then formed a skirmish line and cleared the block--arresting people for curfew violations in the process.
At least 10 people were arrested as officers moved down the block.
Update 6:30 p.m.:
Mayor Eric Garcetti said Tuesday evening he believes Los Angeles Police Chief Michel Moore misspoke on Monday when he equated looting to the murder of George Floyd in Minneapolis. Garcetti said he has not lost confidence in the LAPD chief.
At the news briefing, Davion Pilgrim, 16, of Compton, called for calm after nights of looting.
"I have seven brothers and sisters and I surely don't want that to happen to them . While I think we should keep protesting and demanding change I don't think we should loot. The police need to understand where we're coming from.
"When we take a stand together, we have to hold officers accountable. Thank you, amen."
Update 4:30 p.m.:
A large group of protesters have gathered outside the Getty House in Windsor Square, Mayor Eric Garcetti's official residence.
A line of officers surrounded the group which stood peacefully outside the house chanting.
Some protesters said they were demonstrating against the big budget devoted to the police department.
Earlier, Garcetti met with protesters and took a knee in solidarity.
Update 2:30 p.m.:
Protests were peaceful in Hollywood Tuesday afternoon. Demonstrators wearing masks were handing out water bottles during a scorcher of a day in Hollywood. A line of people sitting in an intersection held signs as a line of National Guard members stood behind them. Demonstrators could be seen shaking hands, doing fist and elbow bumps and talking with the troops.
"I don't have a lot of words," said Malcolm, who tried to hold back his emotions. "We have a president who isn't doing his job right now. He is dividing it and it hurts. We don't deserve this."
At one point a group of Guardsmen took a knee in solidarity.
Signs read, "We want accountability," "BLM."
Meanwhile, a large crowd of people marched downtown around Los Angeles Police Department headquarters. The demonstrations there were peaceful.
Update 1:49 p.m.: March Enters 110 Freeway
Marchers briefly entered the 110 Freeway in downtown Los Angeles before taking an exit ramp back onto streets.
Update 1:23 p.m.: Marchers Near West Hollywood
A group of protesters that grew in size since it left the Hollywood and Vine area is nearing the West Hollywood area in what has been a peaceful demonstration.
Update 12:30 p.m.: Protest Marches Grow in Hollywood
At least two groups of protesters are marching in the heart of Hollywood on and around Hollywood Boulevard.
Update 12:06 p.m.: March Organized by Rapper YG Moves Through Hollywood
A protest march organized by rapper YG is moving through Hollywood. The march began near the intersection of Hollywood and Vine around noon. Protesters stopped and chanted, "I can't breathe," at Las Palmas Avenue and Hollywood Boulevard near the historic Musso & Frank Grill, which is boarded up.
Update 11:44 a.m.: Beverly Hills Protest
A group of protesters is marching on South Santa Monica Boulevard east of Canon Drive in Beverly Hills. About 200 people are at the protest.
Update 11:35 a.m.: Curfews Declared for Tuesday
Los Angeles County declared a curfew for 6 p.m. Tuesday to 6 a.m. Wednesday. Traveling to an from work, going to vote in Commerce and Pico Rivera, seeking or giving emergency care are exempt. Click here for an updated list of curfews in Southern California.
Update 10:30 a.m.: Officers Join Protesters in Crowd
At least two police officers could seen mingling with a crowd of protesters who gathered near the LAPD headquarters in downtown Los Angeles. The officers could be seen taking pictures with some of the protesters and joining them by taking a knee in honor of Floyd.
Update 9:59 a.m.: Baptist Pastors March To Honor George Floyd
The Baptist Ministers Conference scheduled a 10 a.m. march on Los Angeles City Hall to honor George Floyd. The organization's president, K.W. Tulloss, said hundreds of clergy from the area will unite to demonstrate solidarity and demand justice for Floyd. The peace march was to begin on the corner of 1st and San Pedro.
Update 9:40 a.m.: Venice Protests
Police and National Guard members stood watch as a peaceful protest embarked Tuesday morning in Venice. The protest began near Abbot Kinney and Lincoln boulevards.
Photos: Powerful Messages of Peace and Unity at Protests in Southern California