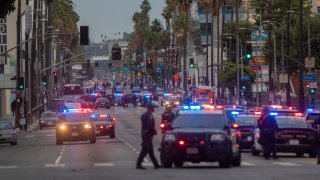 Protests and demonstrations are expected Wednesday as Southern California braces for another day of protests tied to the in-custody death of George Floyd in Minneapolis following six days of mayhem and unrest.
More protests took place Tuesday, with peaceful protesters descending on Hollywood, police headquarters and the Mayor's house simultaneously.
Los Angeles County has issued a curfew order that will take effect at 9 p.m. and continue until 5 a.m. Thursday. This is the fourth night in a row.
Other cities may issue their own stricter curfew orders. Some cities in Los Angeles County hit hard by looting during earlier demonstrations plan to impose an early curfew Wednesday to try to stop violence and looting.
Here are earlier curfews enforced by cities:
Beverly Hills Business District: 1 p.m. Wednesday until 6 a.m. Thursday.
Beverly Hills: 4 p.m. Wednesday until 6 a.m. Thursday.
Culver City: 6 p.m. Wednesday until 6 a.m. Thursday.
Garden Grove: 5 p.m. Wednesday until 5 a.m. Thursday.
Santa Monica: 6 p.m. Wednesday until 6 a.m. Thursday.
Torrance: 8 p.m. until 5 a.m. Thursday.
West Hollywood: 9 p.m. until sunrise.
The Beverly Hills City Business District curfew includes the Business Triangle (including Rodeo Drive), South Beverly Drive, Roberson Boulevard and La Cienega Boulevard. West Hollywood's curfew was originally scheduled to go into effect at 6 p.m. Wednesday but was moved back.
Riverside County instituted a countywide curfew Monday but not Tuesday.
The countywide curfew for Los Angeles County began at 6 p.m. Tuesday night.
Images: Violence Flares Up on the Streets of Los Angeles
This story is developing. Refresh for updates.