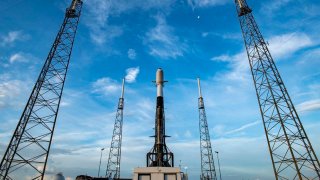 Southern California-based SpaceX had planned to launch a rocket Tuesday and land its first stage booster back on the Florida coast.
But the launch countdown was stopped with just second to go due to a report of an aircraft in the launch range.
"An aircraft entered the 'keep out zone', which is unreasonably gigantic," Elon Musk wrote in a tweet.
The mission be delayed by at least a day.
The launch of the Falcon 9 rocket is scheduled for 11:56 a.m. California time. The first stage booster's landing was to be the first onshore landing at Cape Canaveral since December. 
The boosters typically land on off-shore drone ships. Separation happens about two and half minutes into the flight. 
Sonic booms might be heard in parts of Florida.
Local
Local news from across Southern California
The mission will transport more than 80 commercial and government satellites into space.