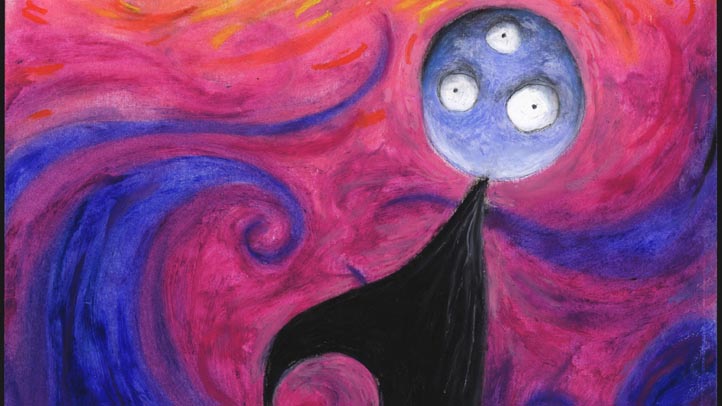 Tim Burton the filmmaker, still exploring the depths of his whimsically demented mind, is hardly ready for a museum.
Tim Burton the artist, displaying the prodigious products of his singular creative vision, certainly is.
An expansive retrospective of Burton artwork and ephemera began a stint at the Los Angeles County Museum of Art on May 26.
The exhaustive show includes drawings and story notions from his early childhood; illustrations and experimental films from his time as a young animator; conceptual graphics, models, costumes and props from his many movies; and previously unseen photos, sculptures and multimedia displays created simply to please himself.
Local
Local news from across Southern California
Burton even created a unique, surprise installation (with original music by longtime collaborator Danny Elfman) specifically for the exhibit.
The resulting experience is a bit like wandering through all the creative corners of Burton's off-kilter imagination – even for the filmmaker himself, who opened up his vaults for the curator when the exhibit originally opened at New York's Museum of Modern Art in 2009.
"I was a bit shocked, because it's not something that I would ever expect, so I just let them come into my studio," says Burton.
"I didn't really meticulously keep everything in good condition," he says. "They just went through all my doors and boxes and things and then they found boxes of stuff in Burbank. So I just kind of let them dig around and I felt like I was in good hands with the curator. I don't really look at stuff. Like movies or drawings, I just kind of do them and then don't really pay much attention to it."
"There are all sorts of weird things that I had completely forgotten about," he laughs. "But it did bring back some things and it did reenergize me. It was a very pleasant surprise, in a way."
The experience brought Burton back to some of his earliest artistic efforts as a child growing up in Burbank. "I remember getting into trouble really early on at the library because of Dr. Seuss books," he recalls. "I remember One Fish, Two Fish, Red Fish, Blue Fish, and I liked it so much that I kept drawing other fish into it – and that was a no-no for the library! But Dr. Seuss was quite a early inspiration for me."
"Just like every kid, I liked to draw," he says. "I wasn't a very vocal person and so it was just kind of a way to explore things and ideas and communicate without having to speak. So I found that lasted well into my twenties, and there were lots of inspirations. I love movies, I love monster movies – Ray Harryhausen things.
"There's a lot of cross inspiration. I'm of that generation. I wasn't really an avid reader. I was more of the television generation. I got my cultural references from television and movies. That was the world that I sort of lived in."
"Eventually Burton found some – if not enough – release for his brimming imagination as an animator. "A lot of it started when I was at Disney just sitting in a room doing whatever I wanted to do for a long period of time for a couple of years," he says. "Then when I got the opportunity to make movies, I realized that it's just fun to make things.
"I'm not really prolific at doing anything. I'm not good at sculpting or drawing, really – I just kind of enjoy doing all of it. Sometimes if I was thinking of an idea for a project and you don't know if it's going to happen or whatever, you make a little thing. You either do a drawing or a photograph or something to just kind of help you process it."
Even deep into an accomplished, inventive Hollywood career that includes "Beetlejuice," "Batman," "Edward Scissorhands," "The Nightmare Before Christmas," "Ed Wood," "Mars Attacks!," "Big Fish," "Charlie and the Chocolate Factory" and his forthcoming re-imagination of "Dark Shadows," Burton feels fortunate to have found the right medium to express himself.
"I certainly haven't mastered [filmmaking], but I've been lucky enough to keep doing it," he says. "For a long, long time I tried to be a children's book author. I spent years trying to get things published, things that never happened.
"I was a crappy animator, as well, which is what I first started to get into. I was kind of lucky that those things didn't quite pan out because I don't know if I would've gone into what I've been able to go into. It always takes a strange twist and turn, but I feel like quite lucky that way, that those other things didn't work out."
And he still enjoys that feeling of discovery in his artistic endeavors. "You find something new each time," he says. "Each movie you do feels like it's the first one you've done. That's kind of good, in a way: It keeps it feeling new and even if you work with people that you've worked with before it's always important to keep it like it's the first time, and luckily it does feel that way always."
"That's what I liked about the way that they presented the show," he adds. "It's not so much like, 'Here's a great artist,' or anything, but it's more like, 'This is kind of somebody's process,' somewhat chaotic. But I enjoy doing all that stuff, even if it's not that same medium, because it helps you.
"Sometimes it helps you arrive at a project. Sometimes it doesn't. Sometimes it percolates for years or goes away. It's just a process of doing things, which is the fun part. It doesn't matter what medium it is."
More details on the LACMA show and a scheduled appearance by Burton here.