Fifty years ago, Marquette Frye — a 21-year- old black man — was pulled over for drunken driving by a white California Highway Patrol officer near 116th Street and Avalon Boulevard in South Los Angeles, setting off a chain of events that led to a six-day uprising that changed the face of the city.
Tonight at 7: Watch "50 Watts" on NBC4
Angelenos will gather at events Tuesday and throughout the week to remember that day, which escalated when Frye's mother arrived at the scene and began shouting at her son, turning a so-called "routine" traffic stop into a melee that attracted a large crowd fueled by simmering racial tensions punctuated by high unemployment and poverty. Those tensions exploded into the Watts riots.
Six days of fires, clashes with police and violence followed that traffic stop. Thirty-four people died, more than 1,000 were injured and scores of buildings were damaged, looted or destroyed — causing an estimated $40 million in damage.
Religious and community leaders gathered at 116th and Avalon Monday in remembrance of the events of 50 years ago, praying that the city never re-lives the type of violence of the Watts riots, and calling for improved relations among people of all ethnic backgrounds.
"There was a time when law enforcement wouldn't collaborate with us," said Waymon Baker, of Cease Fire, a gang intervention group. "But now, that has changed. I, myself, have changed, and that was through collaboration. I was once out there."
Los Angeles author and political analyst Earl Ofari Hutchinson said conditions in Watts and South Los Angeles are similar -- if not worse -- today than they were in 1965. Hutchinson, who recalled the violence and the chaos of the riots, pointed to increased levels of joblessness, poverty and police tensions in the area.
"I stood on a corner near my house and saw the burning, looting and the violence during that horrific week in August 1965," Hutchinson said, adding that little has changed.
Watts is considered the first of a long series of urban riots, known in the media of the 1960s as "long, hot summers." It was the first race riot to be nationally televised.
Local
Get Los Angeles's latest local news on crime, entertainment, weather, schools, COVID, cost of living and more. Here's your go-to source for today's LA news.
The majority of those who were killed or hurt were civilians. Of those who died in the riots, 23 were killed by Los Angeles police officers or National Guardsmen.
The Watts riots were the deadliest in the history of the city until the riots that following the 1992 acquittal of the police officers who beat Rodney King. In that melee, 55 people died and 10,000 businesses were destroyed by fire.
Events marking the Watts riots anniversary include:
"Commemoration Day: Watts Rebellion 1965," which will include interactive sessions, panel discussions, film screenings and tours, at the Watts Labor Community Action Committee.
The opening of "Watts: Then and Now," an archive and contemporary photography exhibition at the Library Cultural Art Center at California State University, Dominguez Hills.
"Community Solutions for Policing in L.A.," a meeting of the Youth Justice Coalition in South Los Angeles.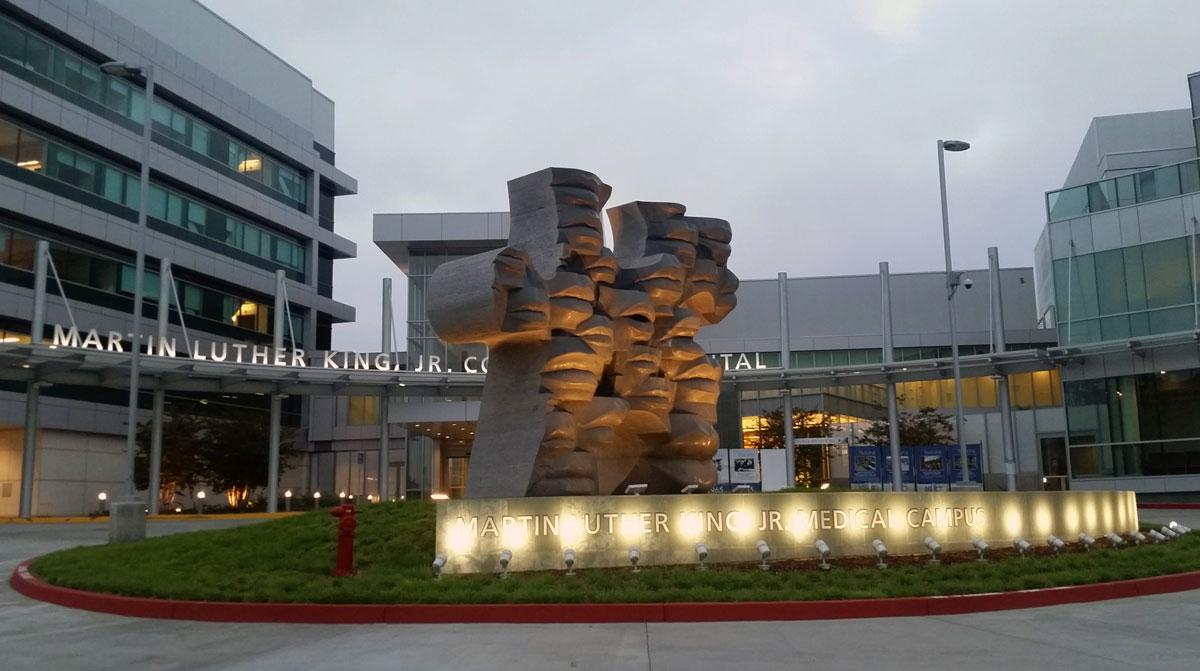 Last week, a formal dedication ceremony was conducted for the recently opened Martin Luther King Jr. Community Hospital. The $210 million, 131-bed hospital opened for business July 7 in unincorporated Willowbrook south of Watts.
The hospital is part of a $650 million medical campus that already included an outpatient and urgent care centers. Those centers have been operating in place of Martin Luther King-Drew Medical Center, which was closed in August 2007 after a series of well- publicized lapses in medical care.


Copyright CNS - City News Service