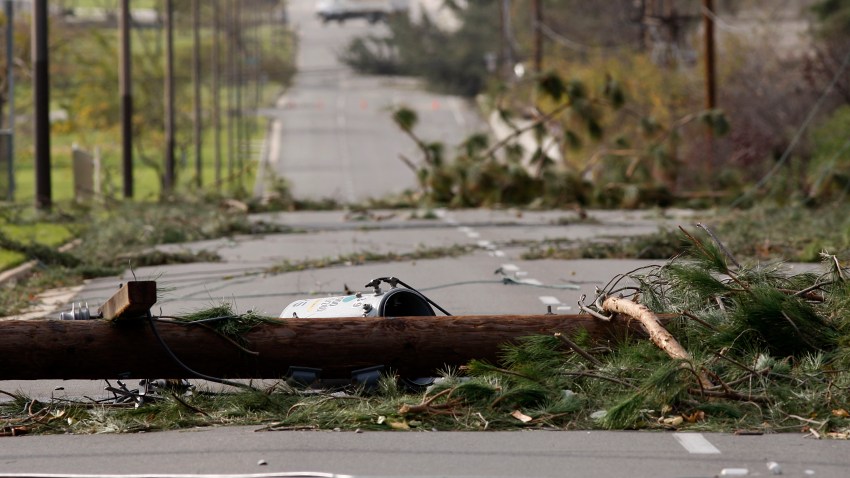 Powerful wind events are not a common occurrence in the San Gabriel Valley, but the system that ripped through it Wednesday night proved that when winds cross paths with the mountain range it can create a windstorm capable of wreaking havoc.
Wednesday's powerful storm, which snapped power lines like toothpicks, uprooted decades-old trees and made many roads impassable, intersected with the San Gabriel Mountain Range in the most "perfect" way, according to Ryan Kittell, a National Weather Service meteorologist.
"The winds were straight north and south and if you look at the orientation of the San Gabriel Mountains, they pretty much run west to east," Kittell said. "So the winds were exactly perpendicular to the mountains."
Local
Local news from across Southern California
After the system traveled up and over the mountains, according to Kittell, it picked up speed and strength as it descended into the valley, which caused winds near the 5 Freeway Corridor, west of Castaic Lake, to reach 97 mph and 72 mph in the San Rafael Hills at 5 a.m. Thursday.
"It's very similar to a stream of water traveling over a rock," Kittell said. "By the time it gets to the other side, it gains speed and also becomes very turbulent."
Kittell said the winds remained strong into Thursday morning, but estimated the peak of the storm in the San Gabriel Valley was between 8 p.m. and 10 p.m. Wednesday.
Many residents, groggy from a sleepless night, said Thursday their neighborhoods looked like a hurricane or tornado had ripped through them.
Thousands of residents in Los Angeles-area were still without power Friday morning.
Kittell said the last major wind event in the San Gabriel Valley was back in January 1997.
The NWS is forecasting another wind event Saturday night, with gusts as high as 20 mph, a far weaker system compared to Wednesday's storm.
"That was a once in every ten year event," Kittell said.
Click here for the latest weather conditions.
Follow NBCLA for the latest LA news, events and entertainment: Twitter: @NBCLA // Facebook: NBCLA