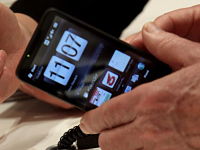 You know what they say. What goes around comes around. For Apple, who's made a case of suing Samsung for ripping off its iPhone and iPad designs, it's now facing a new patent infringement claim by HTC.
The most exciting part isn't even that, but that Google was the one who sold HTC four out of nine patents needed to file a lawsuit against Apple. So, we have Google sitting on the sidelines, supplying its partners with the ammo needed to fight off Apple in court.
How did Google get the patents? Why, it got them when it gobbled up Motorola Mobility.
U.S. & World
News from around the country and around the globe
According to Bloomberg, HTC filed an infringement case in a Delaware court that claims:
The lawsuit contends the Mac computer, iPhone, iPod, iPad, iCloud and iTunes are infringing patents for a way to upgrade software wirelessly; a way to transfer data between a microprocessor and a support chip; a method to store user preferences, and a way to provide consistent contact between application software and a radio modem.

HTC also amended a complaint with the trade commission yesterday, adding five of the former Google patents to a case that targets many of the same products.
Yowza. Why is HTC suing Apple if the fruity company's beef is with Samsung? Oh, wait, the Cupertino company also sued HTC back in March. I guess you can call HTC's new claim payback.
Only time will tell whether competition with the iPhone will become stifled, but man is it just plain geeky to be spazzing out over patent wars — a drama that's tons more interesting than watching Jesse Eisenberg talk really fast on The Social Network.
Let the patent wars continue!
Via Bloomberg
Copyright DVICE - DVICE