If you're looking for a dog to adopt in Chicago, Isis likes car rides, people of all ages and balls. The 3-year-old brindle pit bull terrier, named after the Egyptian goddess, is at the Famous Fido Rescue & Adoption Alliance and needs a home.
At San Francisco's Muttville Senior Dog Rescue, Dahlia and Rockie ended up homeless when their owner died. Both Maltese, and about 8 and 10 years old, they cuddle and wrestle with blankets.
And in Brewster, Massachusetts, at the shelter of the Animal Rescue League of Boston, Pinot Noir is a 2-year-old formerly stray cat who plays with most any toy he's given.
Those animals and thousands of other dogs and cats will be available on Saturday as part of Clear the Shelters, an adoption initiative sponsored by 11 NBC owned television stations, the New England regional news network necn, and 17 Telemundo owned stations. More than 400 shelters are making animals available throughout the day, many at a reduced cost.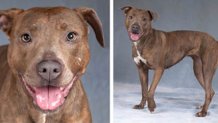 "It's a way we actually can save animals' lives," said Valari Staab, the president of NBCUniversal Owned Television Stations. "This time of year, shelters are very crowded."
With the cost of adoption up to $450 in some cities, families cannot always afford a new pet, she said.
"So hopefully we can put the two things together — get an animal a good home and get a family who can't afford the initial outlay on a pet to take in a pet," she said.
About 7.6 million animals enter shelters across the country each year, 3.9 million dogs and 3.4 million cats, according to the American Society for the Prevention of Cruelty to Animals. Each year an equal number are adopted or euthanized, about 2.7 million for each case. About 649,000 strays are returned to their owners, the majority of them dogs.
U.S. & World
News from around the country and around the globe
The ASPCA focuses on keeping animals in the homes that they already have, getting animals spayed or neutered and finding homes for animals in shelters.
"These adoption events are hugely important for that," said Emily Weiss, the ASPCA's vice president of research and development.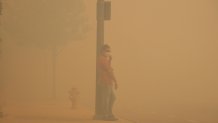 It is participating through its New York City shelter and it has awarded grants totaling $114,000 to 15 other groups to help them waive or discount their adoption fees.
While millions of animals end up in shelters, the numbers are actually falling, Weiss said.
"In some parts of the country, it's better than others, so in places in the Northeast they tend to be among the best regarding the level of intake so fewer animals are coming in," she said.
The ASPCA and other shelters now work together to move animals from areas where there are more strays that will more likely be euthanized to areas where they will have a better chance of adoption, she said. The differences are likely due to weather — warmer temperatures can mean more litters —and the acceptance of spaying and neutering, she said.
Clear the Shelters began in North Texas as a partnership among NBC 5 Dallas-Fort Worth / KXAS, Telemundo 39 Dallas-Fort Worth / KXTX and dozens of North Texas animal shelters. More than 2,200 homeless animals were adopted in 2014, the most in a single day in North Texas.
For this year's nationwide effort, information about participating animal shelters and their hours can be found by visiting Cleartheshelters.com or this page.
Some cities will livestream the new pet owners walking out with the furry additions to their families. In the run-up to Saturday, countless celebrities, news personalities and animal lovers have shared pictures of their own pets using the #cleartheshelters hashtag. Staab, Bravo's Andy Cohen, "NBC Nightly News" anchor Lestor Holt, talk show hosts Steve Harvey and Meredith Vieira, former "Hills" star and "1st Look" host Audrina Patridge, and Hoda Kotb and Natalie Morales of "Today" have all tweeted their support. Morales will host a 30-minute special on Aug. 22 to recap the results.
Staab said she hopes that the adoption drive would become an annual event and to further that goal next year's date has already been set: July 16. A recurring drive can help make people aware of how important it is to spay and neuter their pets, she said.
And the advance notice will give shelters time to raise money to offset that cost of spaying and neutering and vaccinations, she said.
"So we can get the pets at low cost for families," she said.