As of 2016, Disney will finally have its first Latina Princess, and she sounds pretty awesome.
Princess Elena of Avalor will make her debut in a "special episode" of "Sofia the First," set to air next year. As all you hardcore "Sofia the First" fans will remember, when she was brought into the royal family, Sofia ("Modern Family's" Ariel Winter) was entrusted with the mystical Amulet of Avalor, which has allowed her to speak to animals and summon other Disney princesses. This special episode will find Sofia finally learning the truth about her amulet, and that truth is pretty crazy.
As it turns out, a 16-year-old princess named Elena has been trapped inside that amulet for decades, ever since her parents and kingdom were taken from her by an evil sorceress named Shuriki, and it's up to Sofia to restore Elena to her human form and return her to Avalor to reunite with her sister and grandparents and take her place as the ruler of Avalor.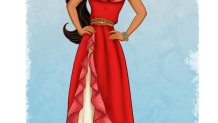 PHOTOS: Celebrities who voice kids shows
After her appearance on "Sofia the First," Elena will get to headline her own animated series, called "Elena of Avalor," set to premiere sometime in 2016. Elena is described as "bold, caring, funny and clever... a confident and compassionate teenager in an enchanted fairytale kingdom inspired by diverse Latin cultures and folklore."
"Our creative team has delivered a universal story with themes that authentically reflect the hopes and dreams of our diverse audience," Nancy Kanter, executive VP and general manager of Disney Junior Worldwide, said in a statement. "What excites us most is the chance to use distinctive animation and visual design to tell wonderful stories influenced by culture and traditions that are familiar to the worldwide population of Hispanic and Latino families and reflect the interests and aspirations of all children as told through a classic fairy tale."
[NATL] Puppy Bowl: 2015 Contenders
U.S. & World
News from around the country and around the globe
Elena will be voiced by Aimee Carrero ("Young & Hungry"), and will be advised on how to rule a whole kingdom by a grand council made up of her grandfather Tito, grandmother Cici, and a royal advisor named Duke Esteban. Plus, she'll have some help from a couple of friends, including a wizard-in-training named Mateo and a magical flying creature named Skylar.
NEWS: Is your favorite show safe? Check out our guide to what's been renewed or canceled
"Elena of Avalor" is executive produced by Craig Gerber, who also created "Sofia the First," and will be overseen by cultural advisors Doris Sommer, a Harvard University professor and Director of Graduate Studies in Spanish, and Marcela Davison Aviles, who is the managing director EP at the El Camino Project, an international Latino arts initiative.
"Sofia the First," which also features the voices of Sara Ramirez, Tim Gunn, Wayne Brady and Jeffrey Tambor, to name a few, has been extremely successful for Disney, delivering the two highest rated cable telecasts among kids 2-5 years and girls 2-5 years, along with the No. 2 telecast among preschoolers in total viewers, adults age 18-40 and women age 18-49.
"Sofia the First" returns on Friday February 20th, and "Elena of Avalor" premieres next year on Disney Junior.
[NATL] Top Entertainment Photos: Best of the American Music Awards, and More
Copyright E! Online