"Saturday Night Live" celebrated four decades of laughs with a special presentation Sunday night on NBC. An all-star cast of past and present performers and some of the biggest names in music gathered together to fete the iconic sketch series. The three-and-a-half hour show included new sketches with classic characters, clips of some favorite sketches, tributes to iconic former cast members and musical performances by Paul McCartney, Paul Simon, Miley Cyrus and Kanye West.
Relive the event by reading our live coverage of the gala show:
11:29 pm: That's all folks!
Steve Martin and the evening's players took their bows as the credits rolled, but not before calling a visibly emotional Lorne Michaels onstage. It's been a blast.
11:22 pm: "Still Crazy After All These Years"
In a fitting tribute to the show and the "SNL" band who have backed so many legendary artists over the decades, Paul Simon performed "Still Crazy After All These Years." A song he once performed live on the show while dressed in a turkey costume. Well, it was Thanksgiving!
11:14 pm: "It's Party Time!" "Excellent!"
U.S. & World
News from around the country and around the globe
Wayne (Mike Meyers) and Garth (Dana Carvey) were back on the couch to reveal the Top 10 things about "SNL":
10. It's a "live" show
9. Satire
8. "Saturday Night Dead"
7. Cast Catchphrases
6. Musical guests
5. Kanye Sit Down "Don't storm the stage," Garth told a jumpy West in the audience.
4. Opening credits
3. Aftershow orgies/ or Wigs
2. Lorne Michaels "What can be said about Lorne Michaels that he has not already said about himself," quipped Wayne.
1. The Crew
[NATL] u0022Saturday Night Liveu0022 Host Portraits
11:05 pm: In memoriam
Bill Murray introduced the segment honoring those of the "SNL" family who have passed away. There was John Belushi, Jan Hooks, announcer Don Pardo, Tom Davis, Andy Kaufman, Danitra Vance, Charles Rocket, band member Tom "T-Bone: Wolk, Phil Hartman, Chris Farley, Gilda Radnor, and those writers, producers, wardrobe organizers, and talent coordinators who helped make "SNL" the ground-breaking must-see TV it has become.
Oh, and the ongoing joke about a not-quite-yet deceased audience member Jon Lovitz.
10:50 pm: Here's to the films
Before they were called digital shorts they were simply "SNL" films, prerecorded skits played between the live sketches. Remember Albert Brooks performing open heart surgery? "White Like Me" with Eddie Murphy? Everybody knows "D--- In a Box" with Justin Timberlake and Andy Samberg. And don't forget MacGruber, all those ad parodies and "The Midnight Coterie of Sinister Intruders."
Zach Galifinakis (in a wig borrowed from Sia's performance with Kanye West) introduced a new digital short featuring Adam Sandler and Samberg singing "That's When You Break," an '80s-style power ballad complete with rocker wigs and retro clips of players breaking character and laughing. Special call outs went to Rachel Dratch and Jimmy Fallon.
10:36 pm: "30 Rock" reunion
Tina Fey and Alec Baldwin feted former "SNL" player and "30 Rock" co-star Tracey Morgan who, Fey said, wanted to attend the celebration Sunday but was still not well enough following injuries sustained in a traffic accident last summer. A clip of "Brian Fellow's Safari Planet" was played to showcase Morgan's contribution.
10:24 pm: Seinfeld takes questions
"People who hosted again and again have nothing going on," Jerry Seinfeld joked before taking questions from audience members who were all either past "SNL" hosts, players or writers.
Michael Douglas couldn't understand why was only asked to host once when Charles Barkley did it three times. John Goodman was quick to point out he hosted 13 times (or "the Goodman dozen") ahead of a parade of bold-faced names including James Franco, Larry David ("Was I really a writer on 'Saturday Night Live'?") , Ellen Cleghorne ("How many black women were on the 'Seinfeld' show?"), upcoming host and "Fifty Shades of Grey" star Dakota Johnson, Tim Meadows, Bob Odenkirk and Sarah Palin (who Seinfeld identified as "Tina").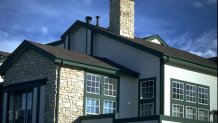 10:15 pm: "50 Ways" with Miley Cyrus
Former host and musical guest Cyrus took the stage with the band to perform Paul Simon's "50 Ways to Leave Your Lover," a song Simon performed on "SNL" in November 1976.
10:07 pm: Peyton Manning and Derek Jeter introduce the sports skits
The worlds of NFL and MLB combined to introduce a montage of clips featuring sports stars sending themselves up, including Chris Evert, Hulk Hogan, John McEnroe, Michael Phelps, Michael Jordan, Kerryi Strug, George Foreman, Mike Tyson, Charles Barkley, Shaquille O'Neal, LeBron James, John Cena, Dwayne "The Rock" Johnson, Dennis Rodman, Evander Holyfield, Mister T, Mike Ditka, Joe Montana and many, many more.
9:58 pm: Chris Rock introduces Eddie Murphy
"Every year somebody tries to tell us that someone is the next Eddie Murphy," said Rock, before adding, "There is is no next Eddie Murphy."
Murphy took the stage to thundering applause before describing Sunday's show as "magical." Murphy last hosted "SNL" in 1984 and was a player from 1980 to 1984. Then, a fumbled cross to the ad break. Hey, it's live television!
9:40 pm: Martin Short, Maya Rudolph as Beyonce, a wind machine and the music skits
After battling verses (and that wind machine) the pair led us through a musical showcase of past glories: Dana Carvey delivered "Choppin' Broccoli," Adam Sandler returned as Opera Man ("Lorne has gathered us together and no ones getting paid-oh!"), there was Kenan Thompson's DeAndre Cole with "What's Up With That?", Steve Martin as King Tut, and Bill Murray belted out the theme song from "Jaws" ahead of a Blues Brothers reunion featuring Dan Aykroyd and Jim Belushi (brother of the late "SNL" original player John Belushi) and slamming rendition of "Everybody Needs Somebody."
u0022SNLu0022 40th Anniversary Red Carpet Arrivals
9:20 pm: Cross-Generational "Weekend Update"
Amy Poehler, Tina Fey and Jane Curtain returned to the "Weekend Anchor" desk that helped catapult all three to national fame. 23 players have sat behind the desk across the decades.
"The times have changed since I did this," Curtain explained. "I used to be the only pretty blonde woman reading fake news. Now there is a whole network." Then the Fox logo appeared behind her.
Hollywood stars paraded through embodying their favorite characters. First up Emma Stone donned the horizontal wig of Roseanne Rosannadanna (originally played by the late Gilda Radnor), then Edward Norton gasped his way through a Stefon impersonation ("New York's hottest club is called YANK!") before being joined by Bill Hader, the character's creator, and Seth Meyers, Stefon's "SNL" husband.
Lastly, Melissa McCarthy burst in as Matt Foley (originally played by the late Chris Farley), complete with pants-adjusting ticks, before destroying the desk.
And then Fey was eaten by the Land Shark.
9:07 pm: The Californians!!!!! And the kiss of the night!!!
"SNL" returns to the West Coast – accents and driving directions included. Props to Bradley Cooper as the pool boy, Kerry Washington as the doctor delivering results of the paternity test and Taylor Swift as the ingenue actress, Betty White as the "not dead!" mother turned Catalina pier-performer. And that kiss between Cooper and White!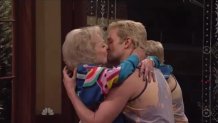 9:00 pm: 40 years of political sketches
Jack Nicholson takes the stage to introduce four decades of political skits, a video montage highlighting impersonations including Carter, Bush (H. and W.), Clinton (Bill and Hillary), Gore, Obama, Romney, Gingrich, Palin and Biden.
Adding perspective to proceedings, Nicholson noted that "when 'SNL' started, the last helicopter had just flown out of Vietnam, Watergate was still fresh in everyone's minds, and New York was broke."
8:52 pm: McCartney back as musical guest
Paul McCartney delivers the first full staged musical performance of the evening: "Baby I'm Amazed."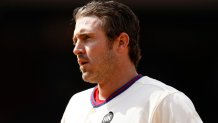 8:45 pm: "SNL" = New York City
Former host Robert De Niro describes what the series has meant to NYC, and vice versa. "'SNL' and NYC – that's the way I like my Saturday nights, that's the way I like my city," De Niro said. "Anybody got a problem with that?"
As past sketches showcasing the Big Apple rolled, Alica Keys took to the grand piano to perform a soulful rendition of "Empire State of Mind."
8:30 "Jeopardy!" returns
Will Ferrell donned mustache and stern gaze to embody Alex Trebek and host "Jeopardy!," with a star-studded impersonated cast featuring Tony Bennett (Alec Baldwin), Justin Timberlake (Kate McKinnon), word-mangling Sean Connery (Darryl Hammond), Burt Reynolds (Norm MacDonald), Christoph Waltz (Taran Killem), Matthew McConaughey (Jim Carrey, complete with pre-recorded voice-over), and a cocktail-making Bill Cosby (Kenan Thompson).
Trebek: "The answer is 'This is the color of snow."
Connery: "What is yellow."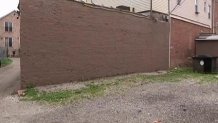 8:24 pm: Dan Aykroyd delivers first new sketch by revisiting an old one
Revisiting a April 1976 skit, Dan Aykroyd delivered the first new sketch of the night playing a TV ad sales man showcasing the Bass-O-Matic – basically a blender you put fish in in order to make "mmm ... delicious bass milkshakes." Lucky for viewers, the Bass-O-Matic stalled when stuffed with fresh fish.
u0022Saturday Night Liveu0022 Cast: Then and Now
8:08 pm: Steve Martin delivers opening monologue
"How do you cover all the people who have been on 'SNL' over the years?" 15-time host Steve Martin asked during his opening monologue. "Leave 'em out," Martin said.
Other multiple hosts Tom Hanks, Alec Baldwin, Melissa McCarthy, Chris Rock, Peyton Manning, Miley Cyrus and Billy Crystal took the stage with Martin, along with former musical guests and hosts Paul McCartney and Paul Simon. "SNL" executive producer Lorne Michaels said Simon had flown 19 hours just to be in attendance Sunday night.
Martin said to Rock: "I forgot you were once a cast member." Rock: "So did the writers!"
8:00 pm: Fallon, Timberlake kick-off the big show
Jimmy Fallon and Justin Timberlake opened the prcoeedings with a rap and musical number referencing some of the most well-loved sketches and characters from the last 40 years, including the Wild and Crazy Guys, Ambiguously Gay Due, the Californians, the Blues Brothers and more cowbell! Rachel Dratch's Debbie Downer and Molly Shannon's Mary Katherine Gallagher joined in.
u0022SNLu0022 40th Anniversary Red Carpet Arrivals
7:50 pm: Would Betty White host again?
The "Mary Tyler Moore Show" and "Golden Girls" star hosted in 2010. When asked if she would step up again White replied, "Well, I got an Emmy for it. Sure!"
7:41 pm: Martin Short most asked "SNL" question
Cast member Martin Short (1984-1985) was asked what he gets asked most often about his time on the show. "Someone asked me do you still do the classic characters from 'SNL' in the '80s," Short told Lauer. Then added with a laugh, "Sadly, yes!"
7:26 pm: Is Amy Poehler worried about performing tonight?
Alum Amy Poehler said she wasn't too fazed by the prospect of performing in front of the comedy royalty assembled Sunday night. "They understand bombing," Poehler said.
7:15 pm: Jim Belushi talks brother Jim's "SNL" legacy

"John was on the cover of Rolling Stone this year," Jim Belushi said of his brother Jim, who was a founding member of the "SNL" troop in 1975. Belushi walked the red carpet with alum Dan Aykroyd, who famously brought to life the Blues Brothers - both on the series and on the big screen - alongside John, who passed away in 1982. "He's still the #1 'Saturday Night Live' man," Belushi continued. "He created the legacy for me to follow. We keep Jake and the blues alive. We'll bring the spirit tonight on the stage."
7:05 pm: Eddie Murphy returns after 30 years
In his four years on "SNL," Eddie Murphy brought us Mr. Robinson, Buckwheat, Gumby and Velvet Jones. But since hosting in December 1984, he hasn't been back. Until tonight.
"It's a lot like going back to your old high school, and everything seems really tiny," Murphy said during the Red Carpet pre-show. "I haven't been back here in 32 years." Murphy talked what makes performing live special. "There's nothing like that connection, that feeling, of a live audience," Murphy said. "Once you've done that, you never, ever stop liking it."
7:02 pm: Sarah Palin calls "SNL" appearance "most fun" moment of her 2008 campaign
Former Vice President hopeful Sarah Palin walked the red carpet and stopped to chat with Matt Lauer, alongside 16-time "SNL" host Alec Baldwin. When asked about her famous appearance on "SNL" in 2008 during the Presidential campaign (in which she was impressively impersonated by Tina Fey), Palin said it was the "most fun moment" of the campaign for her.
Baldwin, who has hosted the show more than any other performer, was asked why he keeps returning to Studio 8H in Rockefeller Center. "As Seinfeld said to me, you're only the record holder because you have so much time on your hands," Baldwin quipped in reply.
7:00 pm: Red Carpet Kick-Off and Bill Murray is in the House
And the stars start arriving. Former "SNL" cast member Bill Murray (1977-1980) rushed through without stopping to pose for photographers. Also in the house early: Jimmy Fallon, Justin Timberlake, Seth Meyers, Billy Crystal, Bobby Moynihan, Rachel Dratch, James Franco and Amy Poehler.