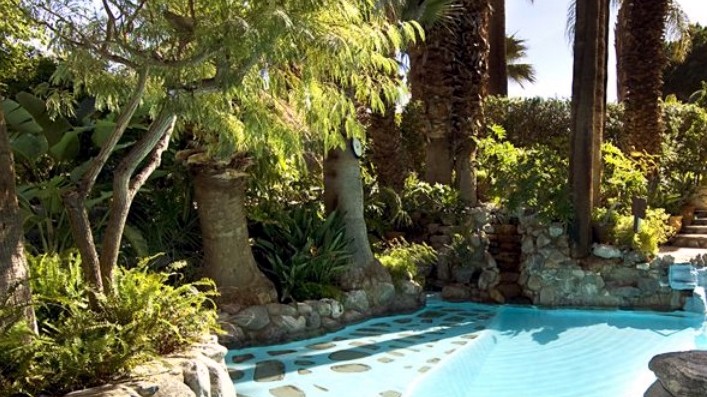 ALL THE STARS: The desert offers many gifts -- warm winter days, crisp evenings, interesting, prickly plants, and plenty of opportunities to get in the pool -- but one we particularly love is its night sky. Nope, the night sky doesn't belong to the desert alone, but there's something about being in a drier land, with its very clear air, that makes star-watching a true pleasure. And easier, too; what might be obscured by city lights or a bit too much fog or moisture in the air becomes far more sharp in the land of cacti and craggy hills. A number of our desert resorts, from the Anza-Borrego to the Palm Springs area, include occasional star-watching events for their guests.
TWO BUNCH PALMS: It's a spot known for its fizzy hot springs, and those oh-so-gooey mud baths, but on Friday, Dec. 13, the Desert Hot Springs resort will be inviting guests to look up alongside visiting astronomer Dennis Mammana. Mr. Mammana will be on the grounds to guide cosmos buffs through the Geminids Meteor Shower, which is due that night. "Pillows and throws," along with snacks and non-alcoholic bevs, will be provided. So basically this is like a dream night: a vast desert sky to study and someone knowledgeable to tell us what we're looking at.
THE PRICE: The resort has a two-night package on: You can stay either Thursday and Friday or Friday and Saturday. Cost is $240 per night, for a two-night minimum, and there are extras, like dinner and astronomy chitchat with Mr. Mammana on Friday night before the meteor-watching. Reservations are a must, and the sooner the better; by Dec. 5 is the suggestion. Also lighting up the desert over that weekend? Wildlights, over in Palm Desert. It's a drive from Two Bunch, but if you want to see 750,000 lights aglow in a pretty desert park setting, get there.
Copyright FREEL - NBC Local Media