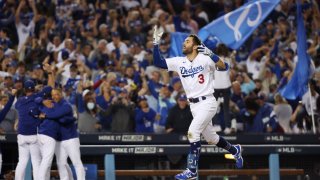 Talk about a Taylor made ending.
Chris Taylor stood at home plate, mobbed by his teammates, hugs all around. Surrounding him were over 53,000 fans doing the same. They jumped for joy, high-fived each other, and screamed in exultation.
Taylor had just crushed a two-out, two-run, walk-off home run in the bottom of the ninth inning to give the Los Angeles Dodgers a 3-1 victory over the St. Louis Cardinals in the National League Wild Card Game on Wednesday night at Dodger Stadium.
"These are the the types of moments you dream about and live for," said Taylor. "I'll be able to look back on this for the rest of my life, and I'm just fortunate I was able to come through in that spot."
The victory propelled the Dodgers into the NL Division Series, where a best-of-five dogfight with the 107-win San Francisco Giants awaits them. The Dodgers and Giants have never met in the playoffs in their 131-year history.
Now the battle of baseball's best begins on Friday.
"I think it's great," said Dodgers' manager Dave Roberts. "It's what baseball wants, Giants, Dodgers, one of the great rivalries in sports, and it's happening."
Local
Get Los Angeles's latest local news on crime, entertainment, weather, schools, COVID, cost of living and more. Here's your go-to source for today's LA news.
Taylor was the player that nobody wanted, discarded by the Seattle Mariners in 2016 for a minor league pitcher that has only made one start in the majors since.
"It's been quite a journey," Taylor said after the game reflecting on his days with the Mariners til now. "Everything happens for a reason, there's highs and lows. Everything I've been through, all the struggles and successes, it's brought me to this point and this is right where I'm supposed to be with this team."
The Dodgers gave Taylor a chance, and he paid them back with interest on Wednesday night. But Taylor's signature moment almost never happened.
The 31-year-old native of Virginia wasn't in Dave Roberts' starting lineup before the game, and he had no idea if or when he would see the field.
"We're going to need him," said Roberts about Taylor before the game. "I can't predict what spot, whether it's to get a bunt down, take an at-bat, play defense or start a game. I do know he's one of my favorite players. I trust him as a ballplayer, and as a person, and we're going to need him this postseason."
Need him they did.
"Obviously it was a little different not starting the game," said Taylor. "I was trying to stay ready off the bench. I knew there was a good chance I would come in at some point and I wanted to be ready when my number was called."
Need him they did, but first they had to get to the point where Taylor would have an opportunity to win the ball game.
The Dodgers dragged a bit to begin the game. Max Scherzer allowed a leadoff single to Tommy Edman, who promptly stole second. Two batters later, a wild pitch scored Edman, and an error on shortstop Corey Seager extended the inning.
But Scherzer dug deep and grinded through 4.1 innings, allowing just one run on three hits with three walks and four strikeouts. It was not his best start, but it was enough to keep the Dodgers in the game.
"I was pitching on pins and needles," admitted Scherzer. "I gave up that early run in the first and in my mind I just wanted to keep it a one-run game. Then it was a tie game, and I didn't want to give up another run. I just went out there and grinded. I didn't get to high or too low, I tried to be as even-keeled as possible. It is what it is, we won the game, and that's all that matters."
Outside of Justin Turner's fourth inning homer, the Dodgers couldn't touch 40-year-old starter Adam Wainwright.
The veteran right-hander, who just signed on with St. Louis for another year, allowed just the one run, on four hits with two walks and five strikeouts in 5.1 innings.
"Yeah, that's two good baseball teams playing a good baseball game," said Wainwright following the loss. "Whoever won this game was going to have a really great chance to have a deep run in the postseason. That's how we looked at it. We really felt confident coming into this game that we were going to win today. We did. We've been playing great baseball."
Thanks to both team's vaunted bullpens, the game stayed deadlocked at one until the bottom of the ninth. That's when the chess match began.
Cardinals' manager Mike Shildt sent right-hander Giovanny Gallegos back to the mound for the ninth, knowing full well he would not throw a single pitch.
"We sent him back out knowing he wasn't going to pitch, and we make him burn a guy with Lux, and we got McFarland in there," said Shildt.
Roberts announced left-handed hitting Gavin Lux as the pinch-hitter, but Shildt immediately took out Gallegos for the left-hander T.J. McFarland. Roberts countered by replacing Lux at the plate with future Hall-of-Famer and former Cardinal, Albert Pujols. The moment was written for a storybook ending.
"We all thought Albert was going to hit a homer to end it," said Turner. "It couldn't have been written any better. He hits a ball 107 miles an hour and just a little too low."
But Pujols lined out to center field, and another pinch-hitter, veteran Steven Souza Jr. did the same. That brought up Cody Bellinger who McFarland walked on a 3-2 pitch to bring Taylor to the plate.
The lefty-righty matchup favored Taylor, so Shildt went to the bullpen and brought in his closer, right-handed flamethrower Alex Reyes who had 29 saves on the season.
Taylor swung at a slider in the dirt for a first pitch strike. He was mad at himself. He figured he would see another slider, and he wanted it up. If Reyes elevated another one, Taylor told himself he would not miss it.
The result of that third slider sent Dodger Stadium into delirium. It prompted the Dodgers' bench to pour onto the field, hugging and celebrating with one another as they waited for Taylor to round the bases. As he rounded third and headed for home, he took off his helmet and threw it into the air, his teammates sprayed him with water, when he finally touched home, there was Pujols, waiting to give him a great big bear hug.
"I was just trying not to do too much and get a pitch I could hit," said Taylor of that final at-bat. "He [Reyes] kind of left it over the middle of the plate for me and I was able to get it up in the air to left. I got a hug from Albert [Pujols]. I think I got a hug from everybody."
Taylor's homer was just the fourth walk-off victory in Dodgers' postseason history. Three of them have come during Taylor's tenure, the fourth, well, let's just say it was the one where in a year that has been so improbable, the impossible happened.
The lasting images of the Dodgers' wild night in the Wild Card game will be of Max Scherzer, frustrated after being pulled from the game, celebrating Joe Kelly getting out of the jam of his own making. It will be of Turner's 13th career postseason home run that landed in the Dodgers' bullpen, the most playoff home runs in Dodgers franchise history. And it will be of Taylor, swarmed by his teammates, as Randy Newman's "I Love LA" blasted over the speakers in the stadium.
The Giants may have broken the Dodgers streak of eight consecutive NL West division titles, but the battle-tested and talented Dodgers have their rivals right where they want them.
"They've been a great team. They won the division and beat us," said Scherzer. "Now we have an opportunity to get them right where we want them, and that's in the postseason. They're a talented team, they've shown that throughout the season. So it's going to take everything for us to win the series. So let's go, let's play some baseball."
You got that right, now bring on the Giants!