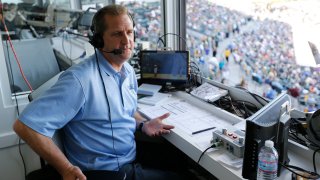 Glen Kuiper has been let go as the Oakland Athletics announcer, NBC Sports California confirmed Monday.
The move comes after Kuiper was suspended after he appeared to use the N-word during a pregame show earlier this month.
An NBC Sports California spokesperson released the following statement:
"Following an internal review, the decision has been made for NBC Sports California to end its relationship with Glen Kuiper, effective immediately. We thank Glen for his dedication to Bay Area baseball over the years."
The decision to part ways with Kuiper was based on a variety of factors, including information uncovered in an internal review, according to a source with knowledge of the situation.
Kuiper during a May 5 pregame show was chatting about his day in Kansas City, where the A's were playing the Royals. He was referring to his visit to the Negro Leagues Baseball Museum when the incident happened.
More than an hour later, Kuiper apologized during the game.
"Welcome back to Kauffman Stadium. A little bit earlier in the show, I said something that didn't come out quite the way I wanted it to," he said. "And I just wanted to apologize if it sounded different than I meant it to be said and I just wanted to apologize for that."
Kuiper also apologized in a statement a day after the incident.
"I could not be more sorry and horrified by what I said. I hope you will accept my sincerest apologies," he said.
Note: A's games are aired on NBC Sports California, which is NBC Bay Area's cable sister station.