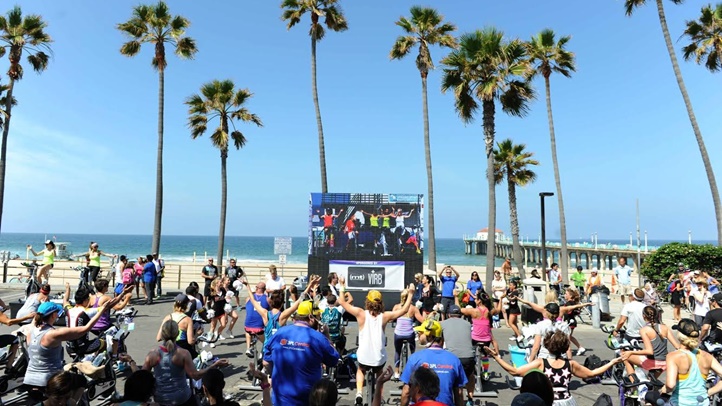 If you've ever toodled near Manhattan Beach Pier on a bicycle, something pretty easy-to-predict likely happened: You, and the bike you were on, moved forward with every push of the pedal.
Stating the obvious, of course, but bicycles have a knack of rolling forward, tire rotation by tire rotation, and then stopping when the cyclist has reached their destination. But on Sunday, May 21 350 cycles'll be out, at Manhattan Beach Pier, and they'll be staying very firmly in place.
That's because they're stationary bikes, the kind of cycles meant to stay put while giving cyclists to-the-max workouts. And 1,500 cyclists will take shifts on the 350 cycles throughout the morning and middle of the day, all to play a part in the 5th Annual Tour de Pier.
The Scene
What to do, where to go and what to see
Once again, this stay-in-place, raise-a-good-deal-of-money happening will support cancer research. A trio of organizations, the Hirshberg Foundation for Pancreatic Cancer Research, Cancer Support Community Redondo Beach, and the Uncle Kory Foundation, are the days beneficiaries.
What's "raise-a-good-deal-of-money" mean? Over $3,800,000 has been raised since Tour de Pier began in 2013.
All the slots on all of the bikes do sell out, so there are no spots to hop on left. The great news? You can head down to the pier to cheer participants on, take a look at the Health & Fitness Expo, or send the young'uns into the Cardio Kids Fun Zone.
Live tunes are also part of the (fingers crossed) sunshine-bright morning. Oh, and morning comes early-ish on Tour de Pier day: Everything starts up at 8:30 a.m., and wraps at 1:30.
Copyright FREEL - NBC Local Media