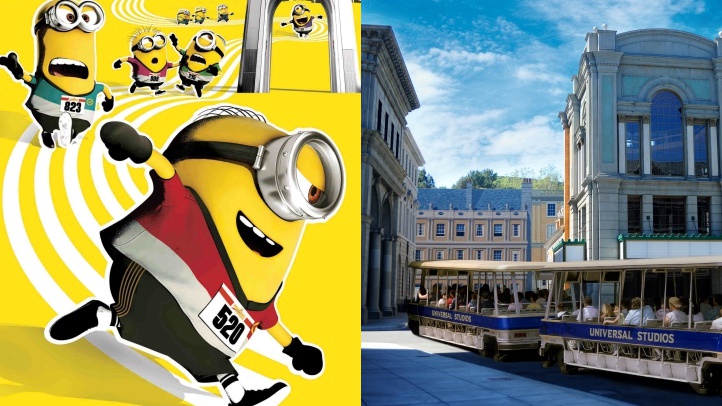 What to Know
Running Universal, a new run series
Minion-themed run on May 11, 2019
Participants will wend through areas of the theme park and the famous backlot
It can be said, quite accurately, that a number of things do move, quite frequently, around the historic Universal Studios Hollywood backlot.
Trams carrying people interested in films, thrills, and cinematic gems galore? Yep.
A certain shark who may or may not suddenly emerge from the water, all to the delight of the aforementioned people on the tram? You bet.
The Scene
What to do, where to go and what to see
Runners legging it through the hills and dips of the backlot? A far rarer sight, but that's all going to change, thanks to a new on-the-move series helmed by the theme park.
"Running Universal," a series of running events, will send participants through both sections of the famous theme park, and, yes, its expansive backlot. The theme park announced the upcoming series, which debuts next spring, on Nov. 13, 2018.
Will you hoof it by the "JAWS" water? Or the Bates Motel?
Better be prepared to run faster, then.
The series kicks off on May 11, 2019 with "an energetic Minion-themed 5K," where, yes, many runners are expected to be in sunshine- and banana-sweet hues, in tribute to the way-popular animated characters.
There will be, of course, Minions milling about, too.
Also? "Fun Swag" is promised, for participants, so consider what you might add to your running wall after this one-of-a-kind event.
Of note? This is the first-ever backlot run overseen presented by the theme park.
And if you're a backlot buff, and have jumped onto numerous trams over the years, all to see the cool structures and wilder spaces that make up Universal's "back acres," think of the runs as a fresh way to experience this iconic stretch of Hollywood history.
The finish line? At the 5 Towers area at CityWalk.
Details, sign-ups, and everything you need to know can be found at the Running Universal site.
Universal Studios and NBC-owned TV stations operate under the same parent company NBCUniversal.
Copyright FREEL - NBC Local Media