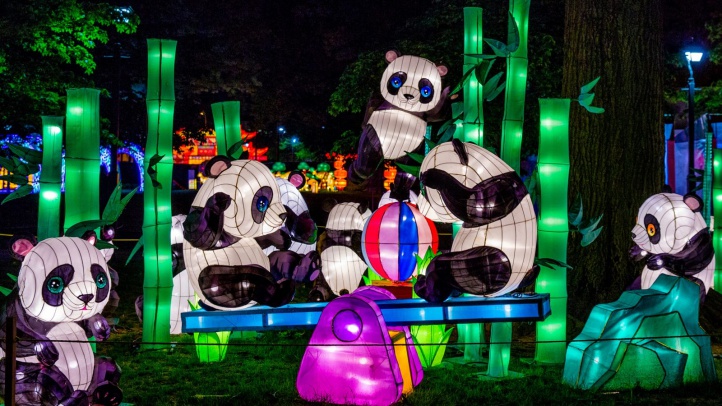 What to Know
Arcadia
Oct. 26 through Jan. 6, 2019
$20-$28
Have you commented lately, oh, right around 6 o'clock, about how nighttime-ish it now seems in the early evening, all of the sudden?
That's a frequently experienced version of October-itis 'round Southern California, a place that can, from time to time, take all of its copious sunshinery for granted.
Two things to note: It's about to get even nighttime-ier, around 6 o'clock, and even 5 p.m., thanks to the mandatory "fall back" of Daylight Saving Time on Nov. 4.
The Scene
What to do, where to go and what to see
And also? Our nighttimes are about to get even nicer, as beautiful sights will be shimmering, glowing, and pleasing people who visit The Arborteum, in Arcadia, beginning on Friday, Oct. 26.
That's when Moonlight Forest comes to full flower, and the seasonal attraction will stay at pretty peak all the way through to Jan. 6, 2019.
This isn't a forest of chlorophyll-filled leaves and pine cone-packed branches, however; you'll come across a bevy of large-scale lantern displays around the vast garden, displays that summon the spirit of mythical creatures, real-world animals, cultural traditions from around the globe, and delightful scenes aplenty.
Think of it as a post-sundown stroll with added visual pleasure. Pleasure, and a wider world view. "Created by skilled artisans from China's Sichuan province, The Arboretum has partnered with Tianyu Arts & Culture Inc. to celebrate the time-honored tradition of lantern art," reads a bit of background on the ticket page.
So very lovely. And mind-growing. And soul-emboldening. And all good things.
Will there be places to grab a quick bite, or a slower bite, since this all revs up, each evening, right around the dinner hour? Oh yes.
Will your ticket be timed, so you know just when to arrive at the historic spread? You bet.
Should you glow for a ticket now? You should, especially if you plan on visiting the Moonlight Forest close to the holidays. Follow the shimmer to your entry now, and be grateful that, yes, night is arriving rather early these days.
Copyright FREEL - NBC Local Media