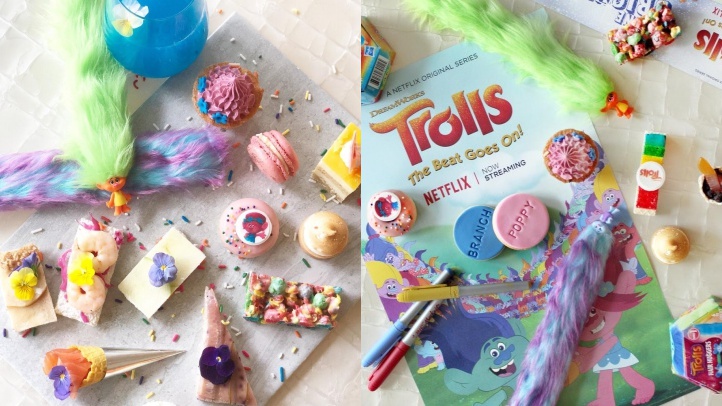 What to Know
July 21 and 28
The Langham Huntington, Pasadena
$75 adult, $59 children 12 and under (tax and gratuity additional)
There isn't a thing wrong in the world with playing it casual when it comes to finding fun alongside our kids.
We put on some jeans, find a soccer ball, and head to the park. Or choose shorts, and a tee, before heading out to a drive-in flick.
Sometimes, though? Going a bit swanky, for a special occasion, can make quite the memory for your tot. And if your tot, like many young'uns, is well-obsessed with the world of "Trolls," there's a dress-up happening that's perfectly suited to their interests.
The Scene
What to do, where to go and what to see
It's the DreamWorks Trolls Afternoon Tea, and it adding some happy hues and delicious goodies to The Langham Huntington, Pasadena over the final two Sundays of July 2019.
If you've ever attended a posh afternoon tea, you know the feel of this festive offering, but this is an event created to delight younger guests.
That means there are activities themed to the world of the DreamWorks "Trolls," and treats, too, that have that "Troll"-sweet look.
Showing in "colorful outfits" is encouraged, while "(b)right wigs or fun hairstyles are optional).
And when the tea is over, and your party prepares to leave, after you're all done munching on the savory and dessert-y delicacies?
There's a parting gift for your young "Trolls" aficionado, oh yes (think a DreamWorks Trolls Hair Hugger collectible toy).
There are a few seating times on both July 21 and 28, do note.
And also worth mentioning?
Lovely teas inside landmark hotels are often labelled as elegant and low-key affairs (which, yes, can be true). But there's enough room in the tradition for some whimsy, plenty of pizzazz, and the chance to cater to the specific interests of the tots at the table.
The Langham Huntington, Pasadena, in partnership with DreamWorks, is changing up what we thought we knew, and all to give our children a new way to make a happy and lasting memory, with a bit of "Trolls"-style magic sprinkled on top.
Copyright FREEL - NBC Local Media