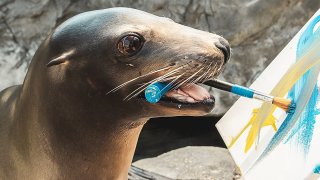 What to Know
Aquarium of the Pacific in Long Beach
Adopt a sea lion through the aquarium by July 1, 2021 and receive a 5" by 7" print based on an original created by Harpo the Sea Lion
Adopt at $100 or higher and you'll be entered to win the original painting
Sea lions, as a rather charming rule, are always full of amazing antics.
You might spy the personality-filled pinnipeds barking, waddling, sunning, diving from something tasty, or staring at you as you stare back.
Those gorgeous neck rolls, elegant whiskers, and shiny eyes only deepen landlubbers' love for these incredible critters, furthering our desire to connect with the quirky dogs 'o the sea in all the ways we can.
Which leads us to this question: If you have an array of sea lion photos, sea lion books, and, well, sea lion everything, do you own an actual work of art created by an actual sea lion?
If the answer is "no, but I really, really want one," there's a way to remedy that, all while helping the Aquarium of the Pacific care for its flipper-rocking, bark-talking mammals.
Here's how: If you adopt a sea lion at the Long Beach aquarium, and you do so by Thursday, July 1, you'll receive a print of a picture based on a painting created by Harpo the Sea Lion.
The size? It's five inches by seven inches, perfect for displaying on your desk or a treasure-filled shelf.
The subject matter? Whatever Harpo chooses, but suffice it to say your artwork will be fabulously freeform.
Sea lions approach life lavishly, one could say, and that lavishness certainly extends to how a sea lion deftly operates a paintbrush.
But wait: If you adopt at a level of $100 or higher, you'll be entered in a drawing for Harpo's original painting. And owning a sea lion's original masterpiece? Talk about your great conversation pieces.
Your friends would certainly flipper-out over such an artwork. Or do we mean "barkwork"? (We'd be lion if we said we didn't love pinniped-inspired humor.)
Sea lion adoptions start at $25, and for that price you'll enjoy a digital print based on Harpo's original artwork, should you adopt, as mentioned, by the first day of July.
Curious about what all the levels offer? You can peruse all of the animal-sweet goodness on this page.