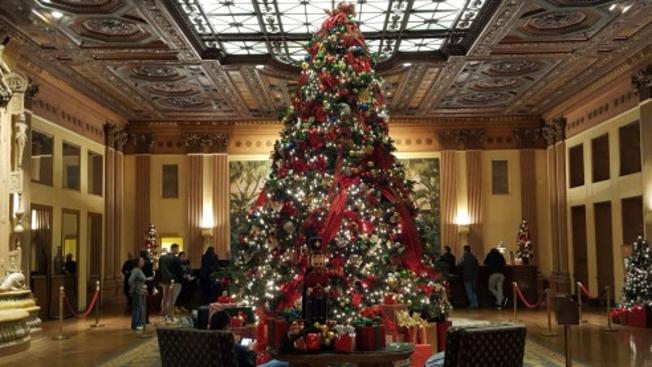 What to Know
Various dates
$15
Pershing Square and other locations
If you've strung some tinsel around a window or nailed a wreath to the door, then you know what every aspiring holiday decorator soon finds out: Even the tiniest of tasks takes some real effort and a whole bunch of Christmas-flavored can-do.
Now imagine being tasked with tinselling a large lobby or adding an over-sized tree to a spacious reception area or filling a landmark entryway with all manner of merry gewgaws and Noël-inspired knickknackery.
It's going to take time. It's going to take creativity. It's going to take some grease of the elbow assortment. And, yes, oodles of effort, on the behalf of several people, is the engine of the pretty-making push.
The Scene
What to do, where to go and what to see
Such is the seasonal way with some of DTLA's most historic and hallowed structures, those sizable spots that are often seen on look-back tours celebrating some of our most storied buildings.
Not every famous downtown place hangs the boughs and bows for the holidays, of course, but some do, and, as is charming tradition, LA Conservancy will visit a few of those destinations, and Pershing Square, too, which is currently home to the Bai Holiday Ice Rink.
Spots do sell out, and have, but there are some left, if you're tempted to see this once-a-year sight with a fact-smart docent at the lead.
A ticket is $15, and "holiday attire" is most definitely suggested.
You can't spell DTLA without "la," an essential part of fa, la, la, so best fa, la, la your way to a ticket for this annual treat that has local history, yuletide splendor, and architectural admiration at heart.
Copyright FREEL - NBC Local Media