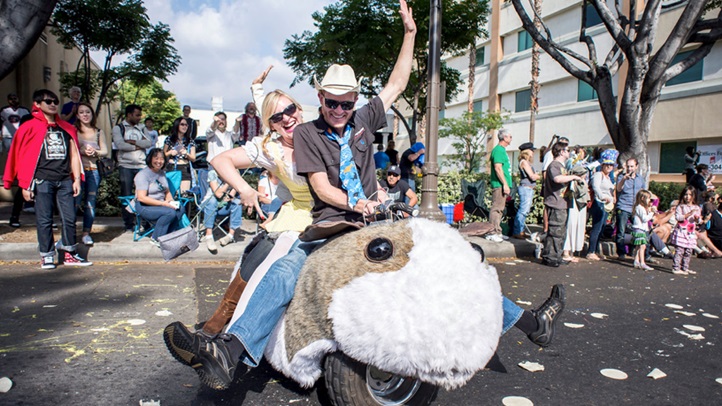 What to Know
Sunday, Nov. 18
11 a.m.
East Pasadena, along Colorado Boulevard between Altadena Dr. and San Gabriel Blvd.
Halloween ends, in Pasadena, with the stroke of midnight on Oct. 31, much in the way that it concludes in other locations.
But is Halloween truly done in the Crown City at that moment? We'll pause, and tap a fingertip to our chin, and summon the best "hmmm" face we can, because of this, we're unsure.
After all, people will dress as outer space travelers, and zombies, and cowboys, and zombie cowboys, and a host of other wacky, outlandish, devil-may-care characters in the weeks after Halloween.
The Scene
What to do, where to go and what to see
Why? Because they'll be a part of what might be the most devil-may-care-y event in all the land, the Pasadena Doo Dah Parade, the started-long-ago answer to the Rose Parade.
Where the Rose Parade has tradition and pomp, the Doo Dah Parade has, yes, tradition, 41 outings, but a distinct lack of pomp or statliness or that rosy, regal air.
Instead, anyone can enter, for ten bucks, and dress however they like, and create dance routines that are both puzzling and charming, and while throwing food is now forbidden, doing pretty much anything else is high up on the "go for it" scale.
The only rule at the Doo Dah is, wait for it, "the Doo Dah rules."
We didn't make that up. That's a thing.
And has been the spirit of the spectacular since it came into weird being, in 1978.
By the by, this particularly sprightly spectacular always takes place on a Sunday, because the Rose Parade is never on a Sunday.
And that Sunday in 2018? Nov. 18, with a start time of 11 in the morning, but mentally picture a shrug emoji next to that hour, because sometimes the Doo Dah is prompt, while other years it has a bit of molasses in its get-go.
The place to be is on East Colorado, between Altadena Drive and San Gabriel Boulevard.
Arrive early, to be close to Colorado, if you like parade participants possibly/maybe coming up to you and chatting or giving out high fives.
We mean... it could happen, but, really, anything can.
It's one of the charms of the parade, which holds its over-the-top queen tryouts in October, and then selects its royal figurehead from the line-up of harmonica-playing, tap-dancing, you-name-a-talent aspirants.
It's all pretty amazing, and locally loved, and oh-so-itself. Is "deeply Doo Dah" descriptive enough? If so, there is no Doo Dah as Doo Dah as this Doo Dah, one of the Doo-Dah-iest daliances in Pasadena and anywhere that's not Pasadena, too.
Copyright FREEL - NBC Local Media