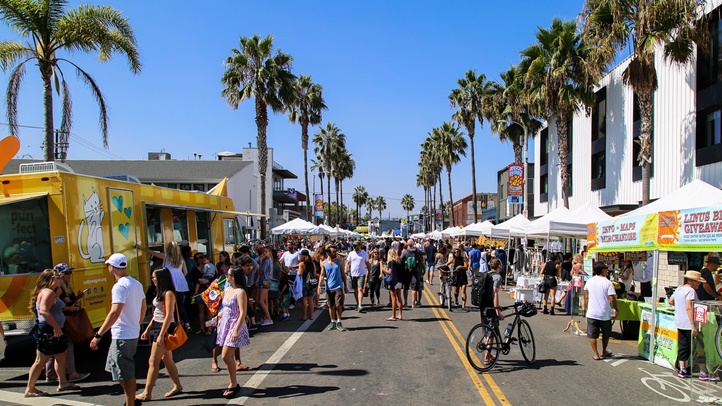 Summer couldn't stay away, as is summer's famous way 'round these parts, even though autumn has now officially hung its shingle out for the next three months.
Translation: Temperatures are zinging up again, and they're bringing their BFF along for the warm ride, the sun and copious amounts of rays.
And if ever there was an ideal moment for a long-running street festival to spread the sunshine, in reality and in spirit, it's on Sunday, Sept. 24, the first day of the coming summer snap.
The Scene
What to do, where to go and what to see
The date is a giveaway, if you're an Abbot Kinney enthusiast, for the Abbot Kinney Festival always takes place on the last Sunday in September.
The free, no-cars-on-the-street, stroll-and-see slice of sweetness will savor its 33rd go-around from 10 a.m. to 6 o'clock on the 24th, and the price to get in? No need to pat those sundress pockets or fanny pack: It's free.
There's an asterisk, but not one to frown over: A trio of beer gardens at the Venice festival, and some 300 vendors, and food trucks and food booths, too, means you'll want some dollars on hand, so better pat those pockets again and make sure there's cash in one of them.
And younger revelers? There's a lot for little Abbot Kinneyans to do at the party, so seek out the "rides and games" that are also a popular feature of bash.
Over 100,000 people are expected at the Abbot Kinney Festival Association's "...biggest fundraiser of the year." So show up and show your support for "...community-based organizations in Venice with an emphasis on youth, community, and the arts."
That's total sunshine, right there, of the heart. So if you're feeling the vibes flowing from the iconic Venice thoroughfare, and you want to commune once more with summer, before it truly vamooses, make your way to one of our town's quintessential street festivals.
Our town's? Or the planet's? Truly, Abbot Kinney Festival is a sunshiny, easy-breezy classic, one that stands tall among all street festivals everywhere.
Copyright FREEL - NBC Local Media