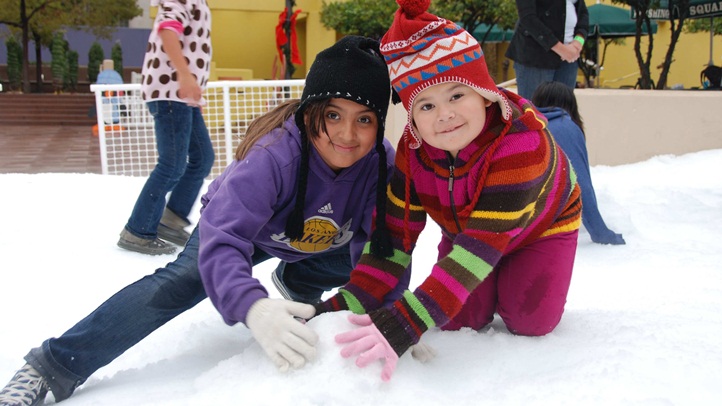 "Snow in downtown Los Angeles" sounds like it might be part of an especially creative screenwriter's big science-fiction script pitch (we're seeing a few spaceships and dinosaurs in the mix, too).
It's outlandish, is the thing, and made for the cinema. Except on that special day of the year when a whole bunch of cold flakery really does arrive in the heart of our metropolis for a day of sledding and snowplay. Arrives via truck, we should say, rather than clouds.
The Scene
What to do, where to go and what to see
And making it extra special? It's free.
It's the annual Free Holiday Winter Festival at Pershing Square, which is presented by the LA Department of Parks & Rec in association with Downtown on Ice, the square's seasonal ice rink.
So what's on at the fest, besides a whole bunch of strange-to-see-in-downtown snowflakes? Santa, concerts, choirs, and craft-making. Basically the major mondos of the merriest season, and for most of the day, too. The fest is on from 11 a.m. to 7 p.m. on Saturday, Dec. 8.
Wear your mittens for sledding, or possibly skating, too. We should add that ice skating is not a free part of the day, so be sure to arrive with eight bucks -- six for skating and two dollars for skate rental.
But the rest of the day? All snowflakes, no dough.
Copyright FREEL - NBC Local Media