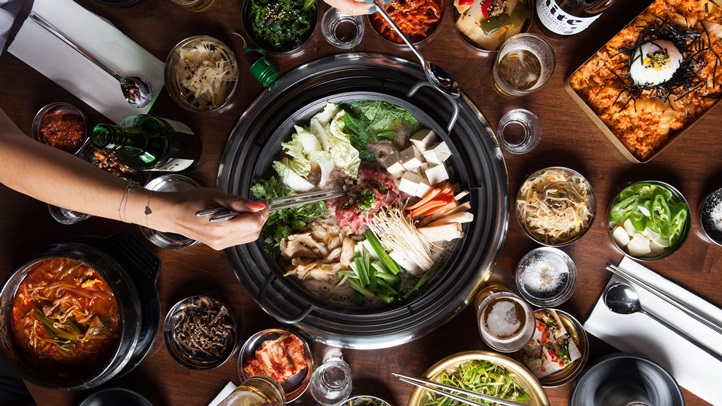 Digging your spoon into a dish, over and over, as your pals cheer you on, is a singular experience.
It's the all-you-can-eat experience, a piquant, lip-smacking pursuit that's typically undertaken in a contest-type setting, one that challenges the diner to go the belt-expanding distance.
But Hanjip, the Culver City Korean barbecue joint, is putting a sweet spin on all-you-can-eating with big-hearted give-back reason: Guests who attempt to take on the $29.99 All You Can Eat menu will help out No Kid Hungry, an important Share Your Strength "non-profit initiative aimed at ending childhood hunger through education, connecting kids in need with nutritious food, and helping families prepare healthy, affordable meals at home."
The Scene
What to do, where to go and what to see
Call upon the stylish spot through Sunday, Dec. 4, request the All You Can Eat meal, and go to town on the marinated short rib, traditional Bulgogi, shrimp, and more.
There are 20 meats in all, so come in knowing what you'll be facing, food-wise.
For every $29.99 all-you-can-eat meal sold, Hanjip will donate five dollars to No Kid Hungry.
Moreover, a dozen of the grand-prizers are scoring a "VIP card that allows winners to eat for free with a guest all year long." Good stuff, and with a celebratory reason connected to the conviviality: Hanjip is marking its first anniversary, and wanted to do it up, in a guest-pleasing, give-back kind of way.
There are some specific breakdowns to know, about how winners are crowned (it depends on the number of people at the table, and more), so check out all of the rules before digging into that Bulgogi and shrimp.
And depart knowing that you've helped Hanjip help an important program, one that addresses the most fundamental of issues at the basis of a healthy childhood.
To donate directly to No Kid Hungry, start here.
Copyright FREEL - NBC Local Media