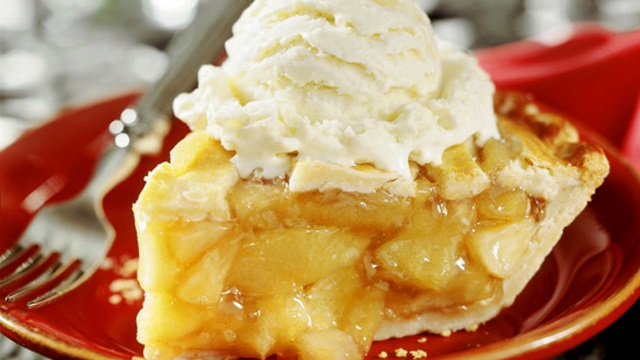 If you awoke on the morning of Tuesday, March 14 somehow saying all of the numbers of the mathematical value of pi aloud, starting with 3.14, well, consider yourself in the spirit of the day.
Likewise, if you awoke craving something stuffed with sugar-sweet apples, or cherries, and covered with a pastry shell, know that you also are feeling the vibe of the occasion.
Because the 14th day of March, or 3/14, or 3.14, is, of course Pi Day, and, naturally, Pie Day, too.
The Scene
What to do, where to go and what to see
And you can be in the mood for both math and the classic meal-ender of a dessert. Just grab your calculator, and head for your favorite diner or pizza shop for a slice, and eat away while you math away. (You can both consume pie, while working out pi, at the same time: True fact.)
If you don't have a favorite pie shop, pizza or dessert, to support, there are a few deals and fun, March 14-y happenings about. The Pie Hole Los Angeles will have slices of Grammy's Chocolate Cream Pie for $3.14. In addition to that tasty deal, some of its superstar sweets will be back, for one day only.
If cheesy, savory piedom is more your pleasure, head over to a Pitfire Pizza, which is hosting a Pi Day contest (and that's at every location). The intriguing upshot? Whoever "...recites Pi in the house to the most decimal points will win ONE FREE pizza per month all year!"
As you know, math mavens, that's a whole bunch of numbers to have handy, inside your noggin, so be prepared, memory-wise.
And, an update: Blaze Pizza is going with a $3.14 deal for pizza all day long on March 14, and at all locations, too. The info? Chow down here.
As for a super-classic pie-eating contest? No need to wait for the big county fairs of summertime to stick your face in a pan of delicious fruity goo: The Republic of Pie will host such a sticky showdown on March 14 at 5:30 in the evening.
What's Pi Day without number knowledge and Pie Day without contests and giveaways? And what other day of the year can claim two such disparate, smart, and delicious purposes?
Raise your calculators, and napkins, high, pi/pie people.
Copyright FREEL - NBC Local Media