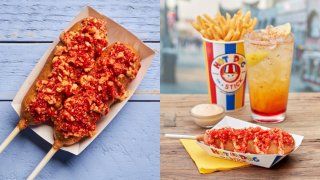 What to Know
Two limited-time items are on the menu at Hot Dog on a Stick shops: Cheetos Flamin' Hot Stick Strawberry Mango Lemonade with Tajin®
Cheetos Flamin' Hot Sticks are $6.99 each and Strawberry Mango Lemonade with Tajin is $6.14
Available through Jan. 16, 2022
You never know when and where a favorite foodstuff will pop up absolutely robed in the crunchy, spicy, unmistakable flavor of Flamin' Hot Cheetos.
Consider Roy Choi's piquant pop-up, back in 2018, which included Flamin' Hot-covered spins on elote, rice bowls, and other tasty dishes.
And those Cheeto-cheery cupcakes from Sprinkles?
They've made a return engagement or two, and with good reason: Fans of frosting-slathered sweets do like to change it up now and then, and finding a confection with a "hefty dusting" of Flamin' Hot goodness is a surprise and taste bud-teasing delight.
But there's something fresh on the Flamin' Hot front, and you only need look to that started-near-Santa-Monica-Pier company, the one with the stripe-y aesthetic, tart sips, and stick-topping snacks: Hot Dog on a Stick.
The shops now have not one but two spicy-crunchy heat treats. There's the Cheetos Flamin' Hot Stick, and, you bet, any of the on-a-stick choices can be covered in the delicious, orange-bright delicacy and chipotle aioli.
Those include original turkey, beef, veggie, or cheese, and the price? It may vary slightly, shop to shop, but $6.99 is what you'll likely pay at most Hot Dog on a Stick locations.
But the batter-dipped, golden-chewy shops are also known for their tangy beverages, and there's a libation joining the Cheetos Flamin' Hot Stick on the tangy-but-temporary menu: Strawberry Mango Lemonade with Tajin.
It's $6.14, though prices can vary, and, you got it, the Tajin, gives this refreshment a hint of fabulously fiery flair.
Get it in its original sippable form, or as an enjoy-with-a-spoon frozen treat. And count on it: Like all of the lemonades served at Hot Dog on a Stick, this piquant pleasure is also hand-stomped.
Don't wait on trying either seasonal snack: Both Flamin' foodstuffs are available through Jan. 16, 2022.