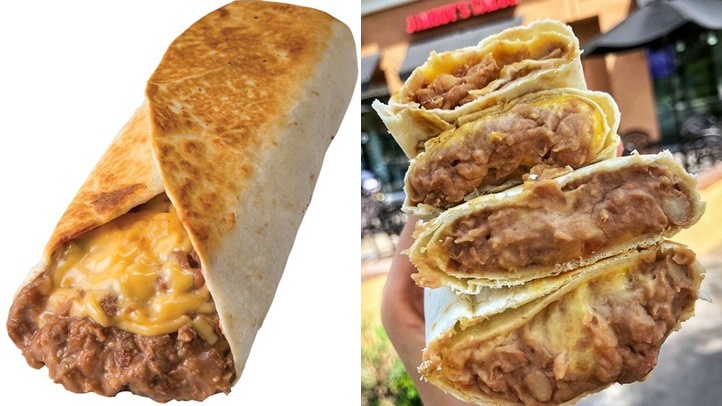 What to Know
April 5
Burrito Day
Del Taco and Jimboy's Tacos have deals on
If you had to start with the similarities between a burrito and a deep dish pizza pie, would you begin with the cheese?
Of course you would, and we'll just state that, boldly, right there. Because their true commonality, the share factor that solidifies their food-cousin status, is cheese, and lots of it.
The Scene
What to do, where to go and what to see
But both are also well-sauced — burritos with salsa or habañero aioli or you name it — and deep dish pizza with the classic marinara. There's a bready-delicious element, too, with the deep-dishers rocking the dough and burritos staying cozy within their tortilla-yummy folds.
And here it is: Both the burrito and deep dish pizza are sharing a national holiday in 2018. It's April 5, which is both National Burrito Day, which always falls on the first Thursday in April, and National Deep Dish Pizza Day.
Before you fill up your plate, all day long, with both, you'll want to note that BJ's Restaurant & Brewhouse and DoorDash have a free delivery special on for April 5 (you'll need a code) and a few burrito-making places around town are shaving some cash off for fans to fill up on beans and cheese and tastiness.
Jimboy's Tacos, which has spots in Aliso Viejo and Anaheim, is going the two-buck route for its classic bean and cheese burrito, all day long. And if you're by a Del Taco? Pay a fiver, snag two classic burritos, and nab a small fry order, for free, in honor of the holiday.
Who's up for a deep dish pizza burrito in honor of both occasions? Well, though Southern California is the land of the themed restaurant, we don't yet have this particular mash-up just yet.
Perhaps an enterprising chef will have one open in time for the first Thursday in April in 2019? True, both food holidays may not coincide again for a few years, but we'll want to be ready for when they do.
Copyright FREEL - NBC Local Media