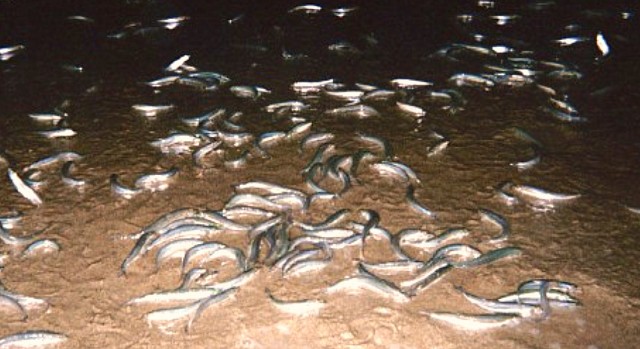 It's a fishy fact — as in, a fact pertaining to the fish world — that when you're describing a grunion to a friend, you're going to use your hands in some way.
And, let's just say it, probably your forearm, too, and a few additional limbs. Because trying to accurately portray a small silver fish that wriggles onto the sand to spawn requires some nibble, Charades-type skills, the better to full embody the grunion for an agog listener.
And how, truly, could a listener not be agog over the true notion that a denizen of the ocean, one with gills and fins and a traditional piscine shape, exits the ocean to drop some eggs off on the beach?
The Scene
What to do, where to go and what to see
That's right: Exits the ocean. A fish, leaving her eggs in the sand. A fish!
It's a marvel, no matter how many times you've witnessed it and regardless of how much heart you put into your grunion impression, later on, for friends.
So check it out, grunionions, or grunionists, if you prefer: The 2017 runs have begun, and while it is currently open season, as of this typing, closed season, which means "Observation Only" (and not catching) is coming up in April, with open season returning in June.
And, do note, for open season, "...grunion may be taken by hand only and a valid California fishing license must be displayed if you are 16 years or older."
How best to take all of this amazing-a-tude of the highest, saltiest order in?
You can read up and become a grunion pro, or you can find a grunion-rich spot, or you can attend the Meet the Grunion program at Cabrillo Marine Aquarium in San Pedro.
The program splashes down over a few select 2017 nights, giving grunionions — er, grunionists — a deeper understanding of the sand-seeking silversides fishies, as well as a chance to view the wriggle-on-the-beach event happening live.
Meet the Grunion has now officially launched, though you'll want to check on the specific nights before heading to the Cabrillo Marine Aquarium. The final evening of 2017 is Monday, July 24.
A last thing to keep in mind: The grunion are late-nighters, at least from our on-land perspective. Things don't rev up, beach-side, at the Meet the Grunion program before 10:30 p.m., though you'll want to arrive by 9 p.m. for an informative film and introduction to the grunion. (You won't need to shake their fins, no; we mean an overview.)
Did we mention this fish, a fish, an actual gill-sporting specimen of the H2O, exits the ocean? To spawn?
Earth! C'mon. Really now. Just when we think we have a handle on you and your millions of marvels, something else swims into view and flat-out amazes.
Copyright FREEL - NBC Local Media