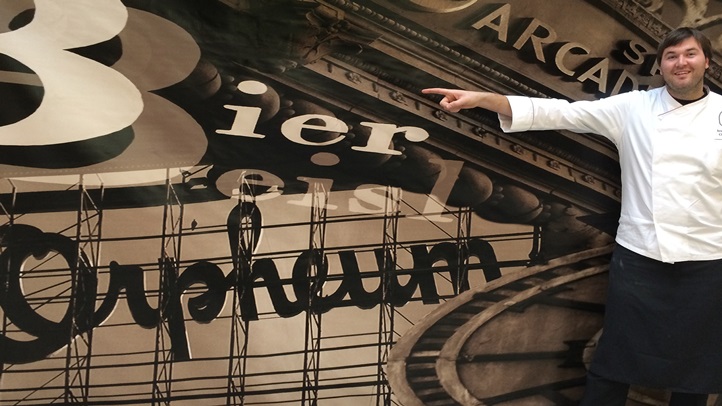 When a bustling eatery moves locations, longtime fans sometimes fret that the staples of the place will also change or be fully lost along the way.
This can include the unique cutlery or a favorite appetizer or a zany way to score a free meal. And while the relocation of BierBeisl Imbiss from Beverly Hills to downtown has brought some fresh touches to the Austrian-elegant eatery, its famous "are you taller than the chef?" deal remains.
In fact, what was once a time-specific promotion is now happening all year long at chef Bernhard Mairinger's restaurant, which went by the handle BierBeisl during its years in the 90210. If you haven't heard of it, and you're over 6'8", and you adore a savory sausages, here's the upshot: If you're taller than Chef Mairinger, who happens to top out at about 6'8", you get a free meal of sausage, pretzel, and some traditional suds, on the house, Bob's your uncle, done.
The Scene
What to do, where to go and what to see
To know? This is a one-time deal, so you can claim it on a single visit, not again and again. Good? Yes, good and fair.
Also, there's "(n)o official measuring" device or strategy, so don't stroll in looking for the marker lines up the wall or any tape measures. You and Chef'll go back-to-back or side-to-side for this one.
It's the most charming of ongoing promotions, and while there isn't a person who would sniff at any dining discount in any form, there's something about summoning the chef from the kitchen to take part in a "who's taller" competition that feels a touch funky and nicely warm.
More funky warmth is in the house, thanks to the new happy hour that started with the restaurant's new Spring Street Arcade location. Sausages, veal loaf, and draft beers are on special, and the special place to sit is the Stammtisch or community table.
An Oktoberfest is due, too, over the second weekend in October. The year-round menu is always sausage- and suds-filled, but joining the autumn merriment means games, prizes, and festive traditions straight from Chef Mairinger's home turf, Austria.
Copyright FREEL - NBC Local Media