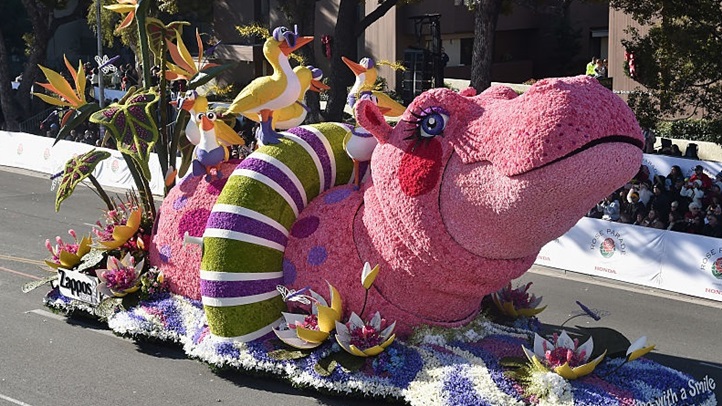 Dare we even suggest that you might still be writing "2016" on various documents and checks? We might dare, as that is the eraser-heavy road that many people take over the first month on the calendar.
But the first month also delivers us something, here in Southern California, which isn't about last year, or even the new year, the one that is only a few weeks old: We are encouraged to look into the far future, some eleven months ahead, to the next New Year's Day.
For the Tournament of Roses traditionally reveals its upcoming theme about three weeks after the last tourney wraps. And tradition, as any SoCal fan of the spectacular knows, is at the heart of all that the tourney does.
The Scene
What to do, where to go and what to see
True, the next flower-famous extravaganza is still nearly a year away, but, please: This is the Rose Parade. It needs to rev up early. And the 2018 theme, which was revealed on Thursday, Jan. 19, is "Making a Difference."
So start practicing your "2018" now, or at least saying it, here and there, because it will be on the horizon, and then right in front of us, before we all realize it.
And the 129th Rose Parade Presented by Honda? Unlike the 2017 event, the 2018 parade will take place on New Year's Day, which is a Monday. Jan. 1 fell on a Sunday in 2017, and the Rose Parade never happens on a Sunday.
So book Monday, Jan. 1, 2018 now, and start pondering the latest theme of one of the planet's most historic parades.
Lance Tibbet, the newly elected President of the Tournament of Roses, announced the 2018 theme on Thursday, Jan. 19.
"The 2018 theme, 'Making a Difference,' is a way to honor and celebrate all of the people in our communities, who quietly and without desire for reward or recognition, act in selfless, generous, and kind ways to aid or benefit others," revealed Mr. Tibbet, who first became a tourney volunteer in 1980.
"It's about human acts of kindness that enrich the lives of others and are the source of inspiration, hope, joy, and optimism for us."
Nice words as we head into 2017, with an eye already on what's to come at the very, very start of 2018.
Copyright FREEL - NBC Local Media